A guest post by Sherry Peters.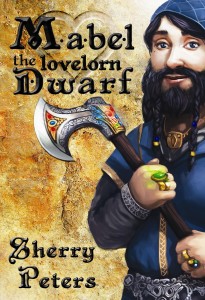 This was not my plan. A part of me still wants to be rescued from this and put back on the track that was supposed to be. But the more I learn about the business of self-publishing, the more I realize that even authors on the track-that-was-supposed-to-be have to go through much of the same. And I'm a bit of a control freak at times, so being in control of every aspect of publishing my book is fabulous and terrifying at the same time.
Making the decision to self-publish Mabel the Lovelorn Dwarf (arriving August 9, 2014) wasn't an easy one. I waffled on it for months. A number of factors played into my decision, most of them personal. I'd first seriously considered the self-publishing route at When Words Collide in 2013. I was chatting with my friends Adria Laycraft and Gerald Brandt, discussing the industry, when I declared that I would be launching Mabel at When Words Collide 2014. I didn't finalize that decision until the end of February 2014.
What were the decisions? Most of them were personal, and I firmly believe that everyone needs to decide for themselves whether it's the right route for them, and their particular book. But here's what went into my decision-making process:
At When Words Collide, I had taken a workshop with one of the Acquisitions Editors from Penguin Canada. She was very clear in saying that a lot of publishers now look at what is rising on the indie publishing bestseller charts. Those are the manuscripts they're picking up, not necessarily agented ones. Why? Because the writer already has a readership—a platform—that has been proven. Guaranteed sales.
I had an agent who doesn't represent YA. I'd seriously considered revising the novel and giving her first dibs on representing it or allowing me to find a YA agent. That process is glacial, but I was willing to consider it. Until I remembered the seventy-five or so agents who had already rejected it (it is a much better novel now than when they read it), and most of those were YA agents, so what was the point? Of the agents who bothered to respond to my query, even asking for partials, fulls, and revisions, it seemed to come down to "it isn't marketable." This was before The Hobbit movie had come out. Perhaps I should have mentioned that Peter Jackson was working on making the movie in my query letter. Ooops.
In March, due to serious health issues, my agent had to let me go. Yes, I'd already decided to self-pub at this point, but I was concerned about the six-month window to put out Book 2. As sad as it was for me to lose my agent, and I continue to hope and pray that her health improves, it freed me up to work on Book 2 rather than try and fail to get another manuscript to her. (She had another one, unrelated to Mabel, that she was shopping around).
The Hugh Howey reports on Author Earnings were somewhat eye-opening. Sure, they aren't perfect reports, and there are probably a million ways to question the data—people have done so on Facebook—but the bottom line is this: self-published books sell. It takes a whole lot of work, but they sell. It isn't like the old days when you had to print a thousand copies and have boxes in your apartment taking up room and wondering why you weren't on the bestsellers list or on Oprah's Book Club.
I have a decent-paying day job, and income from my coaching business. Printing books on demand is inexpensive, creating e-books is free, and I could afford a decent artist and a copyeditor without having to mortgage my home. I am by no means well off, but I do need to be economical in my grocery shopping, and I don't have as much money for extras like going to a movie, but I'm easily willing to make that sacrifice for a beautiful, professional product that I can be proud of.
This is probably the most personal part of the decision. I was tired of waiting. I can be really impatient about a lot of things, but when it comes to the publishing industry, as frustrating as it is, I accept the glaciality. Mabel has been a character in my head for almost nine years (as of the time of writing). She started as a joke, but she wouldn't let go. I wrote stories about her. She became my Master's Thesis, becoming a novel. Since grad school, I've had former classmates of mine ask about Mabel, wondering what was happening with the novel. I'd put it in cryogenics, likely to never see the light of day again. But I couldn't do it. I couldn't let her go. And neither, apparently, could my classmates. So I had some of them read it. I also contacted a few teens to read it, to see if it was worth putting out there, if it was, indeed, marketable. Their feedback was phenomenal, and a resounding "Yes."
Between August 2013 and February 2014, I wrote a first draft of another novel, editing Mabel from what had been my M.A. Thesis at Seton Hill University, and researched self-publishing—not a lot, but enough to make the decision and feel that it was the right one.
Publishing has always been a career choice for me. That is to say, I have always wanted a career as a published novelist and I strive daily to be as knowledgeable and professional about it as I can. That's why I attended Odyssey and Seton Hill. Have I made missteps? Absolutely. For one, I really wish I'd learned how to write short stories better. But that was a somewhat conscious decision on my part, not to focus on short stories.
I have always done my best to be disciplined in my writing, because I truly believe that while I can take all the time I want to write my first book, once I sign that contract, I don't have the same freedom, and all my excuses for not writing won't play with an editor and a deadline. The sooner I eliminate those excuses, the better shape I'll be in when that contract comes along. But that contract isn't coming, and so I'm self-publishing.
Now I need to be more disciplined than ever.
Come back tomorrow and join Sherry as she dives headlong into the myriad everyday goals and decisions she now faces as a self-published author.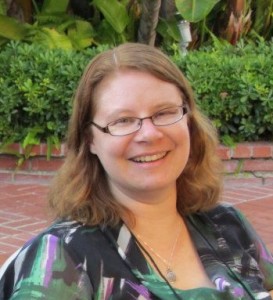 Guest Writer Bio:
Hailing from Winnipeg, Sherry Peters is a writer and a certified Success Coach for writers specializing in the areas of goal-setting and eliminating writer's block. She has taught her "Silencing Your Inner Saboteur" workshop online through
Savvy Authors
, and several Romance Writers of America chapters, and in person at When Words Collide in Calgary and Word on the Water in Kenora. Her book,
Silencing Your Inner Saboteur
, has sold internationally and has been recommended to graduate students at the University of North Carolina and the University of Winnipeg. Her first novel, a YA fantasy,
Mabel the Lovelorn Dwarf
, will be available August 2014. She attended the Odyssey Writing Workshop and earned her M.A. in Writing Popular Fiction from Seton Hill University. For more information on Sherry, her workshops, and her coaching, visit her
coaching website
or her
author website
.