A guest post by Brenda Sawatzky.
It's called the gift of gab. Something I just don't have. I suppose, to some degree, it can be learned. Hence the success of Toastmasters around the world.
When I was a child I marvelled at the class clown, quick witted one-liners sliding unconstrained from his tongue at just the right moment. The sharp-shooting Annie Oakley of the spoken word, never at a loss, firing off rounds as the targets were set. I sat among the perpetually mute, humbled by the rapid-fire workings of this adroit-thinking machine who stood fearless even in the face of the teacher.
Mute was actually my first language. I spent the first ten years of my life working out the specifics of how few words were required to get by. To avoid the unnecessary cordialities of the aunties and uncles who came to call, I'd hide in a closet. Perhaps they'd forget that my mom and dad had had a little girl after three boys. When it came time for Kindergarten, I hid behind the cloak of my gregarious cousin. She was capable of formulating enough words in one afternoon to cover the entire class of six-year-olds, plus a few strays.
I often imagine what my teacher interviews must have sounded like to my parents. "Brenda? Is she the little blond with the mismatched socks? Yes, I think she's been here. Doesn't say much, does she? Have you thought about having her, you know, tested? For mental dexterity? No, no. I'm not suggesting she's… sir, please take a seat… sir, there's no need for violence. Sir?"
My dad got me. I knew that. He was a man of few words, too. What he lacked in words, though, he made up for in bravado. Like the antediluvian antics of a young boy, throwing the baseball at the other kid's head is decidedly more effective than asking him to play fair.
As an adult, I'm still surrounded by the Foghorn Leghorns, the mouthpieces of the world. I have a daughter-in-law who can respond to an interview with words collected, collated, and masterfully delivered without once referencing a script. She could, and perhaps should, be a presidential spokesperson.
I have a friend who steals the show at every fireside or dinner party, keeping us collectively laughing for hours on end. The words "Donn, please stop, I'm about to rupture a spleen" are fodder for his lunacy and only serve to heighten his comedic aptitude. Another friend is a storyteller, waxing poetic every detail, fashioning something riveting out of the mundane. He's the Emmett Brown of the narrative. "The way I see it, Marty, if you're gonna build a time machine into a car, why not do it with some style?"
In most settings where verbal prowess is revered, I'm still the one who forgets the punchline at the pinnacle of a great joke or stalls for time when looking for just the right word, only to lose my place in the conversational pecking order.
The propensity for knee-jerk repartee may not be my thing, but written prose can be equally sharp and reactive. This is the bag of tricks I can pull from, and this is where I find my home. The chatterbox has no backspace button, no quick-reference thesaurus, and can't copy and paste the punchline in a more structurally pleasing way.
I still covet the gift of gab. But the sheer joy I can derive from putting the finishing touches on a finely crafted story—written, rewritten, edited, and delivered from the smelting pot—is worth more to me than the momentary chuckle produced around the fireside. It's more valuable than the moment in the spotlight that quickly fades after the colloquialism ends and the dinner party wraps up. It can be read and reread, stored with a collection on a bookshelf, and pulled out for generations to enjoy. This is the joy of writing, and this I can own.
Guest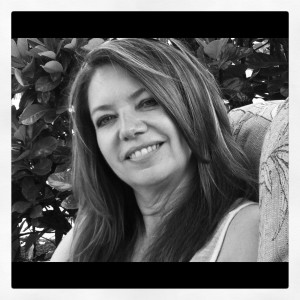 Writer Bio:
Brenda Sawatzky is a relatively new, unpublished writer hailing from the wide-open prairie spaces of southeast Manitoba. She and her husband of thirty-one years are self-employed and parents to five kids (two ushered in by marriage). She is presently working toward fiction and non-fiction writing for magazines and manages
a personal blog
.