Several years ago, my company sent me overseas for a few weeks of training. Since I was already enduring the long trans-Atlantic flight, I decided to take some vacation time to make the most of my trip. I booked my flight a week early, and paid out of pocket to delay my connection in Frankfurt. I had been wanting to do a backpacking-via-rail trip for a while, and so I booked a Frankfurt to London round trip in order to take the opportunity to spend 10 days exploring the stretch of the UK between London and Newcastle.
Knowing that one of my friends participated in an study abroad program during college in Newcastle, I asked her what I should do with my few days in the city. She recommended that I take a bus ride up to the gardens at Alnwick. As she told the story, the gardens were created in response to a local student dying from a drug overdose. The city decided to create a poisons section in their local botanical gardens with the intent of educating visitors on the dangers of drugs.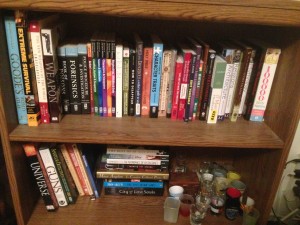 Most writers I know are gigantic nerds for trivia and other useless tidbits. I am no exception. Just take a look at the bookshelf I have reserved for my writing references and you'll see why the idea of a garden devoted to poisons appealed to me. One morning, I made my way to the Newcastle bus terminal, and spent the some time watching the beautiful countryside. Before long, I made to Alnwick. After paying my entrance fee, I spent a couple hours wandering and admiring the gardens.
Eventually, I found the poison gardens, which occupy an open space roughly the size of a small parking lot. Alnwick's Poisons Garden is sectioned off from the public areas by a heavy, black wrought-iron fence. The only access is a gate that is kept locked at all times and is decorated with skulls and crossbones. Hard to misinterpret the message even if you don't speak the local language.
As I approached, the tour guide waiting outside the gate informed me that a tour had just begun. When I asked her when the next would be, she smiled and assured me that waiting would not be necessary. She would open the gate and I could simply catch up the tour.
Once inside the gate, the Poisons Garden didn't appear to be significantly different from the larger public space. There was a small path that meandered through flower beds and the plants were protected by mesh cages to keep people from touching. Otherwise, the deadly plants appeared to be unremarkable. However, I listened to the last three quarters of the tour aptly, taking pictures for reference material, and writing notes as appropriate. Upon leaving the poisons garden, I saw that another group was already forming to start their tour.
In one of my less-than-bright moments, I decided to catch the first quarter of the tour with the new group. As it turned out, each of the three guides gives their own version of the 20 minute tour, and with over 100 plants in the Poisons Garden, there was plenty of material to choose from. Enthusiastic for new information, and not thinking about how it looked to the locals, I decided to join the third tour as well and see what else I could glean.
As I left the gardens for the final time, I found the first two tour guides standing together and casting nervous glances at me. Concerned, I moved close enough to eavesdrop and began digging through my bag. The word "constables" was especially alarming. I did not have the time to be arrested in a foreign country; after all, I had a flight to catch from Newcastle to London the next morning so I could continue on to my company mandated training. Thinking fast, I did the only thing that I could to avoid being arrested.
I walked up to them with a smile on my face and introduced myself.
"Hello," I said, "my name is Nathan Barra, and I am a writer. I came to the gardens to do some research for a book. Thank you for the tours, they were very informative, but I was hoping that you ladies could clarify a few questions for me." The two women who had just been looking at me as if I were prone to poisoning the town's water supply lit up and became passionate about helping me. Turns out, the the information on the tours is nothing compared to what the tour guides will give you if you make friends.
And that, is why I love to be a writer. Yes, there is joy in creating, relaxation that comes from the control of an entire world, and the sense of pride and accomplishment from a completed book. But in the end, writers get to do, and get away with, things a normal person wouldn't have access to in the name of "research." I have writer friends who gone on special tours of NASA, have shadowed prison guards, and are on a first name basis with rock stars. All in all, the perks of being a writer are pretty sweet.
This month, you heard from Fictorians and our friends in the writing community about why we love being writers. I hope y'all have new insight into our worlds and some inspiration to pursue your own dreams and craft. Life is only as interesting as you choose to make it. So go out, and make awesome choices.