A guest post by Paul Genesse.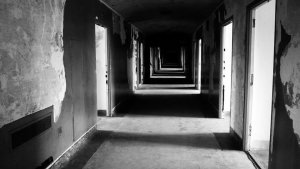 I worked the night shift in a haunted hospital for ten years. The building was over a hundred years old and thousands of people had died there. I'm not going to mention the name of the facility, but it's a famous hospital in Utah, where I started working in the late 90's.
I ended up on a cardiac floor where people didn't die that often, but we had the most code blues of any other non-intensive care unit in the whole facility. People with heart conditions are on the brink of death and their hearts often give out suddenly.
We nurses were always on edge, and whenever a patient said, "I'm going to die tonight," we would always reassure them in their room, but when we left we would freak out and go and tell someone immediately. Very often, when the patient made that ominous prediction, they were right. A few hours later, they would die. It was super creepy.
I had several personal experiences with the supernatural while working there, and I collected a lot of the stories from that hospital over the years. One of strangest involved a close friend of mine, Nick (not his real name) with whom I worked with for many years. Nick was working the night shift when a doctor in a long white coat walked down the hallway toward a dead end section of rooms with no exit. My friend was sitting down and was nearly half-asleep and thought it was odd to see an MD coming at that time of night, around 3:00 AM, to see a patient.
A few minutes after the doctor walked by, a call light went off in that section. Nick answered the call by going to the room immediately. The patient was wide awake, with all his lights on. Moments before the patient had been in a deep sleep. Nick asked, "Do you need some help?" The patient was excited and said, "My brother just came to visit me."
There was no sign of the brother in the room. Nick was confused, as he did not see anyone leave the area. The brother was not in the bathroom or in the other three rooms in that section. There was no way he could have left without Nick seeing him.
Nick said something like, "Where is he now?" The patient had a stunned expression on his face and said, "My brother has been dead for seven years!"
The brother had died in the same hospital, but on a different floor. Nick asked about the conversation they had. The dead brother told his younger sibling that he should not worry, and that he was going to survive this illness.
The patient went home a few days later.
This even really happened. The man lived through his health scare and went home.
Nick was a skeptic about ghosts until this event, but not any more.
I could go on about ghost stories in this hospital, and I'll tell a few more.
A friend of mine, Emily (not her real name) was working in an ICU at this hospital and witnessed haunting activity in a specific room soon after a particularly nasty and disoriented male patient had died. The ghost would touch staff, creep them out with an ominous presence, and scare the current patients staying in that room—who would ask who the tall man was. Emily would ask for someone to go in with her after some frightening experiences. That's how scared she was.
Once, this nasty ghost was seen manifesting as a full-bodied apparition in the doorway of the room where he died. This event freaked out a different nurse really badly. As far as I know, this was the first time anyone had seen the ghost as a full-bodied apparition, but the strangest thing about this was that the spirit had a breathing tube (an endotracheal tube) dangling from his mouth. He seemed to be choking and reaching out for help as he stood in the doorway. The man was very tall and big, so he was quite intimidating.
Emily quit her job and transferred to a different hospital. She could not face the haunting activity any longer.
I could go on as I have a stack of stories about supernatural events, including poltergeist activity, disembodied voices, apparitions, and more.
I'm so glad I don't work at that hospital anymore. Whenever I walked into that place, dark and troubling energies would hit me. I had to learn how to block them out. To this day there are reports of supernatural events there, especially on certain floors that are now abandoned. The security guards who patrol the place have seen and heard all sorts of disturbing things—people calling for help when no one is there, and they see shadows moving in abandoned patient rooms. TV's and call lights go on randomly in vacant rooms all the time.
Healthcare workers are pretty tough people overall, but just walking down to the cafeteria in the middle of the night was frightening for some of my friends. Those dark hallways filled with shadows and that odd vibe was especially disturbing for the more sensitive staff.
Some people are skeptical about ghosts and the supernatural. I think that's fine and very reasonable. Not believing in the paranormal is a great defense mechanism. You don't see things when the more sensitive people do. Personally, it's worked for me in the past. I'd much rather not see scary things, even though, at the edge of my peripheral vision, I know they're there.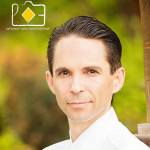 Guest Writer Bio:
   Paul Genesse is the author of
The Golden Cord
,
The Dragon Hunters
, and
The Secret Empire
, the first three books in his Iron Dragon Series. He has sold several short stories—many of which involve ghosts—which appear in various DAW anthologies, and elsewhere. He's been on a few paranormal investigations and may have once encountered a demon—which turned out to be research, as he's the editor of the five volumes in the demon-themed
Crimson Pact
shared multiverse anthology series. He works full time as a cardiac nurse, but has worked as a copy editor, computer game consultant, and naturally he enjoys speaking about writing at conventions, and doing school visits. Friend him on Facebook or find him online at
paulgenesse.com
.