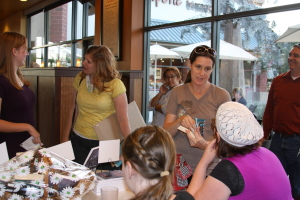 I had the books in hand. They looked great. I even had a couple of reviews already. It was time for the launch party. Eager for success I started looking into bookstores, but nothing close to my budding community readership would allow new authors, especially self-published ones. After a ton of online research I decided to hold the launch at the local Paradise Bakery, close to my community and a place I'd often had get-togethers with fellow authors and artists. I screwed up my courage and asked the manager. That part went easier than I'd expected, and we set up a date, earlier than I'd originally intended. That's when the gut-wrenching fear hit me.
What if I did a lousy job of advertising? What if I didn't have enough of PB's yummy little cookies for everyone? What if I had way too many? What if I spent too much money? What if I couldn't get anyone to help me and I had to talk to people, do sales, and everything else all by myself? What if nobody came and it ended up a waste of time, money, and nerves?
Those are the kinds of questions that can keep a person up at night. When I found out we were talking about author fears this month, this was what came to mind. I was terrified for that launch party. It turned out that I did have too many cookies, but not so many that my family didn't finish them off by the end of the next day. My community advertising didn't do a whole lot, but my online fb invites, emails, and community word-of-mouth made up for it. People came, my family helped with sales, friends donated pens when mine came up missing, and I ended up with a non-stop crowd.
No matter what we fear, and even if it might completely flop, the only way to succeed is to face our fears. We may have to face them over and over again, we may stumble and fall a few times, but as long as we keep getting up and moving forward then we're still taking steps toward success. Will my next launch go as well? I don't know, but I'll never know unless I go. More on that in part 2.