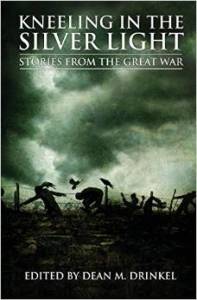 This year marks the 100 year anniversary of the beginning of the First World War.  Today, Remembrance Day, was initially chosen to mark the end of hostilities of the First World War (November 11, 1918).  In modern times this day honours members of the armed forces who have died in the line of duty.
As a commemoration of the 100 year anniversary of WWI, Alchemy Press has assembled a collection of dark fantasy stories set during the war, entitled Kneeling in the Silver Light:  Stories from the Great War.  I'm proud to contribute a short story entitled "On the Side of the Angels."
I'm Canadian by birth and German by ethnicity.  I'll never forget the point in my childhood when I tried to sort out who on my family tree had been "good guys" and who had been "bad guys" during the wars.  I remember feeling saddened to learn that preachers on both sides of the First World War used religion as propaganda to convince their congregations that God was on their nation's side.
My Pletsch grandfather, a devoted Christian and member of the Gideons International, exposed me to a lot of Christian philosophy.  My father encouraged me to wrestle with faith and ask hard questions rather than teaching me to parrot dogma.  He also told me, very memorably, that the Book of Revelations is really trippy and weird, and that there was some seriously bizarre and scary stuff going on in Bible times.
So when I set out to write a dark fantasy story set in the First World War, my first idea was what it might truly mean to be "On the Side of the Angels."
Here's a taste:
***
Our R.E.8 biplane fell from the sky like the morning star from heaven.
The two-seater aircraft's radial engine streamed tongues of flame as we plummeted to earth. I clung to the observer's chair, as though if I held on tightly enough I might halt our descent, or at least preserve myself.
I hoped that Sam was alive and working the controls; prayed he was diving on purpose, to put out the flames. At any second, I told myself, he might pull out of the fall. Building g-forces whispered in my ear, warning me it was already too late – we would rip off our wings if we tried to level out.
The jagged lines of the trenches spun in dizzying circles far below, growing larger before my eyes. The side of my face burned from relentless gusts of hot air. I wrenched my gaze away from the rapidly approaching ground and saw fire on the wing beside me, fire on the fuselage.
The fabric covering the R.E.8's skeleton was treated with dope to stiffen it, and the stuff was highly flammable. We would go up like a torch.
We could be roasted to cinders before we ever hit the earth.
And the pilot's seat was in front of mine, closer to the engine.
I lifted my head though I did not want to, though I knew my eyes would behold horrors, and I imagined a grinning skeleton in Sam's chair, or worse yet, a blackened lump of meat.
I looked against my will and there was Sam, looking back over his shoulder and smirking at me, while all around him a corona of flames crackled like hellfire. I could smell my own hair scorching as the forward fuselage blazed, and yet he reclined in his chair with regal majesty.
"Daniel. Do you want to live?" Sam shouted, and somehow I heard him over the shriek of the wind and the guttural roar of the furnace.
Of course, of course I did.
I should have prayed to Jesus for my deliverance, but I sat as one struck dumb. Then Sam held out his hand to me, and I…I reached out and clasped it, in hopes that Sam could save me.
***
Kneeling in the Silver Light is available in both paperback and ebook, and you can order your own copy here.
And to all our veterans…thank you.
.