One of the most mentioned writing rule is to write what you know. It's also one of the most misunderstood rules for authors.
If writers were to follow this rule blindly, whole genres would be swept from the literary world. Science Fiction? Since there's no way to accurately predict the future at this time, nobody could write novels like Dune or the Foundation series. Fantasy? Magic doesn't exist in this plane of existence, so Harry Potter and Game of Thrones are gone. Mysteries would only be written by law enforcement personnel and thrillers would be penned by spies (who would then lose their jobs because people would know what they did when they went to a book signing.)
A better way to look at this "rule" is to write what you can extrapolate, learn, or research, and to do it as accurately as possible.
If you're writing a weird western tale, you need to be reasonably accurate. Having someone draw a semi-automatic pistol with a 13 round clip during a gunfight will not go over well with the western crowd, unless you've already established the story as a time-travel or alternate history version. You'd have to understand the weapons of the period. If a character in 1844 drew his Colt Dragoon Revolver, you'd lose some of your readers who know Dragoons were used by civilians from 1848-1860. It took me less than two minutes to research that firearm by looking at Wikipedia for "old west guns", then picking one from the list at the bottom.
Now let's turn our attention to a less "concrete" situation — having a character lose a family member. If you are fortunate enough to have never dealt with the death of a loved one, it's difficult to imagine the hurt and loss. Trying to write about something so personal in a manner that will evoke emotion from your readers is a tricky thing to do when you have never experienced it in real life.
So, how can you "write what you know" when you really don't know? Try one of these possibilities:
Read. Pick up a book that you've read before if it has a similar incident and you remember it as an emotional story. Analyze how they evoked different emotions and incorporate some of the techniques in your novel.
Talk. Find someone who's willing to talk to you about how it felt to lose a loved one.
Be resourceful. Use your imagination to convince yourself you've lost the most important person in your life. You'll be able to understand some of the feelings that your characters are going through.
Another angle folks take on the "write what you know" rule is to stick with writing only one genre. Poppycock, in my opinion. Experiment and write in different genres. Break that rule, and break it often. By expanding your writing abilities, and bringing different skillsets to bear, all of your stories will be more interesting.
Go dabble in horror, then ramp up the tension with a spy novel. Whatever you like to read, give yourself the opportunity to try writing it. Start with short stories, and if you end up enjoying the genre, dig in and write a novel. Even if there are stories you don't normally read, such as historical novels or romance, try picking up some of them and give it a chance. You might find a new way to make your money disappear at the bookstore. At the very least, you can pick up some writing chops and add in better romantic elements into your military sci-fi novels.
So go ahead. Break this rule. Nobody will know, and I promise not to tell anyone unless you write a runaway bestselling novel.
About the Author: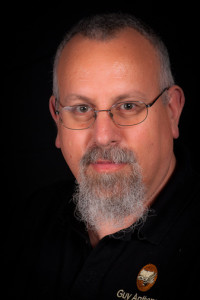 Guy Anthony De Marco is a speculative fiction author; a Graphic Novel Bram Stoker Award®; winner of the HWA Silver Hammer Award; a prolific short story and flash fiction crafter; a novelist; an invisible man with superhero powers; a game writer (Sojourner Tales modules, Interface Zero 2.0 core team, D&D modules); and a coffee addict. One of these is false.
A writer since 1977, Guy is a member of the following organizations: SFWA, WWA, SFPA, IAMTW, ASCAP, RMFW, NCW, HWA. He hopes to collect the rest of the letters of the alphabet one day. Additional information can be found at 
Wikipedia
, 
GuyAndTonya.com
, and 
GuyAnthonyDeMarco.com
.