A guest post by Karen Traviss.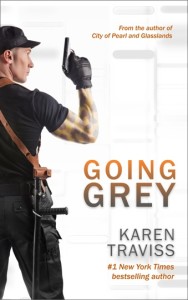 If you missed Part One, you can find it here.
So why does fiction influence us so much when we know it's not true? Our guard isn't up, so we're not expecting to be told anything. In fact, we're open and receptive because we want to immerse ourselves in the story. It gets under our radar much more effectively than news or earnest information campaigns, and if it's powerfully emotional as well, then it really sticks. Humans are pretty hazy about facts and our memories are frighteningly malleable, but we can almost always recall emotions even when suffering from dementia. The basic rule of PR sums it up: the public might not recall what you said, but they'll always remember how you made them feel. Our emotional memory is hard to erase.
In the absence of personal experience, the brain takes what data it can get – even bad or irrelevant data – and tries to form it into a pattern that makes sense of the world. That's why we started telling each other stories in the first place, to explain a world that baffled and frequently terrified us.
The penetrative power of fiction makes PR folk put great effort into getting causes and products worked into TV shows. It's not a modern phenomenon. Getting ideas across under the cloak of a story has been with us for centuries. It gave birth to culturally-embedded fiction like the world's longest-running radio soap, The Archers. From Uncle Tom's Cabin, credited with influencing opinion on slavery, to raising awareness about cot death via TV soaps, fiction straddles the blurred line between the real and the unreal, and it can have positive outcomes.
But it can also be negative, and that even has a name these days – the CSI effect. I first came across the term in a conversation with a police officer who thought the TV show gave juries a false expectation that evidence was infallible and clear-cut, wrapped up neatly by the end of the episode so to speak, and that they struggled with the inevitable ambiguity and margins of error. One told me that even some his colleagues have unrealistic expectations of forensics because they've been influenced subconsciously by CSI. By contrast, it's hard not to love the Swedish cop show Wallander for its less glam reality; the detective asks if a security camera image can be enhanced to grab a tiny detail, and the technician tells him the recording just isn't high-res enough to do that.
I'm not saying that all fiction has to be documentary in nature, because if its was, most books or movies on the SAS would be 400 pages of blokes hiding in a muddy hole and observing stuff before departing entirely undetected, with perhaps one page of a thirty-second firefight resulting in a small pile of bodies. Nobody would pay to read that. We accept that fiction is a distilled and stylised perspective. Sometimes reality itself – like Operation Chariot, the extraordinary 1942 commando raid on St Nazaire – is just too impossible to pass the fiction test and needs to be filed in the Department of You Couldn't Make It Up.
I'm not saying that fiction should become propaganda, either. It's not fiction's job to avoid examining things that unsettle and offend – it's often society's safest way of doing it. But the licence to offend is conditionally granted for telling basic truths. Portraying all soldiers as unthinking, brutish thugs who bully civilians, which seems to be a recurring theme in shows from the BBC's Dr Who/ Torchwood/ Sherlock stable, bears no resemblance to the many hundreds – perhaps thousands – of service personnel I've met over the years. That's the kind of stereotype I object to and that I feel percolates into the consciousness of those who have no benchmark in the real world. It smacks of the worst kind of social demonization, too, because it seems to be aimed at the working class who make up the core of our army.
But the BBC trails far behind Hollywood as a purveyor of bad data, so let me wind up with a quick and highly opinionated suggestion of what good military storytelling should look like, based on three movies.
The worst war movie I've seen is The Hurt Locker, which I judge harshly because it acquired an inexplicable reputation for authenticity despite some of the dumbest and most unreal behaviour imaginable. (Don't take my word for it. Ask someone who's done the job.) If it hadn't set out its stall as realism, I would have ignored it as just another so-so movie.
The very best film is the agonisingly real Kajaki, a meticulously accurate recounting of a real incident in Afghanistan that dispenses with most cinematic convention and feels like a being a helpless bystander on the spot, watching the disaster unfold around you. Warning: it's not an easy film to watch. Harrowing doesn't begin to describe it, but you'll be glad you saw it. It even portrays private security contractors in an honest and unsensational way, the only movie I've ever seen that's avoided the "out-of-control mercenaries" stereotype.
Between those two extremes, but far closer to Kajaki, is the underrated Battle: Los Angeles, which is decently realistic in its depiction of urban ops despite being apocalyptic SF, although the barely-visible aliens could just as easily have been a human enemy. The Marines conduct themselves like Marines, and the minor technical errors (most of which I missed) don't detract from the overall excellence. I'm indebted to a former US Marine for recommending it.
Get those three movies on DVD, or however you source your film entertainment, and watch them carefully. If you know a vet or someone serving, buy them a few beers and a pizza and watch them together. You'll have one of the most educational conversations of your life.
Remember that there's no such thing as too much research. I come from a naval city and the military world has been part of my working life to a greater or lesser extent for more years than I'm prepared to admit, but I still have to do my homework every time I write. I also make sure that I run my manuscripts past friends who've seen front-line service.
There's a lot of small detail and technique to writing authentic military fiction, of course, but that's a topic for another day. You need to do your homework on the language, the procedures, and the hardware, which will vary enormously; one size doesn't fit all. But if you've got the heart of it right – what soldiers think, feel, do, and worry about, and the relationships they build – then you've kept faith with those who do the job for real, and that matters. You may well be shaping civilian attitudes to remarkable people who they'll probably never encounter in real life.
So we owe it to our troops to make sure the voice we give them in our stories is an honest one.
###
Footnote: if you're wondering if it's really that easy to implant false impressions in sane, intelligent people, this is one study of many that shows it's a breeze. http://nymag.com/scienceofus/2015/01/very-easy-to-implant-false-crime-memories.html
About Karen Traviss: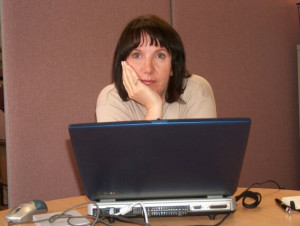 New York Times best-selling author Karen Traviss is a former defence correspondent and has also spent way too much of her life around politicians and police. Going Grey, the first in her new techno-thriller series, is out now and the sequel, Black Run, will be published this summer. Website and newsletter sign-up:
www.karentraviss.com
Twitter: @karentraviss