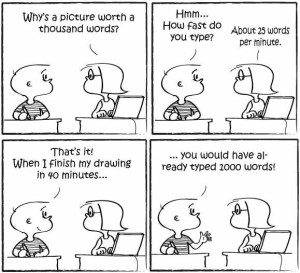 They say an image is worth a thousand words, but is it worth all the hassle to find a good one?  Once we find one, can we legally use it?  Do we bother to find out?
We should.
Images are everywhere, and a blog post without an image is like spaghetti without the sauce.  It's edible, but who's going to want to try it?  This is the age of the internet, of micro attention spans and too much competition from pictures of cats and babies on Facebook.
So yes, we need images for blogs, for articles, for social interactions, and often for covers.  There are tons of great images on the internet, but finding a fun image, although sometimes a hassle, is just the start.
Can we take any image we find on Google and slap it onto our blog, article, or cover?
Not necessarily.
There are many who would say, "Everybody's doing it.  No one's going to care if I 'borrow' this cool image and use it.  Even if they notice, they'll be happy about it – free advertising."  Etc.
Those arguments can be persuasive, but they're also false.  There are ways to do reverse image searches and identify everyone who's using your image.  Sites like TinEye make this very easy.
The more I think about it, the more I realize it's the principle even more than the fear of potentially getting 'caught' that should drive our decisions about the proper use of photos.  I don't want people stealing my words, so why would I steal someone else's image?
So what do we do?
Actually there are lots of options, so no one should feel obliged to take an image that they may not actually have rights to use.  Here are some suggestions.
Use your own photo.
Sounds almost too easy, but why not?  In today's world, everyone's got a phone or three handy and most of those have cameras.  If you're like me and you're not a professional photographer, who cares?  If you see a pose or an idea that you like, there's no reason you can't go set up a similar photo of your own.  Someone else owns their photo online, but they don't own the 'idea' of a photo.  It's remarkably simple to stage your own photo for use.  I've done it quite a few times with excellent results.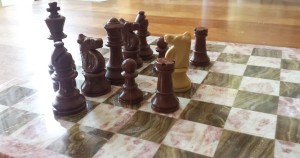 Ask permission.
This can take longer, but if you find a photo you like, feel free to contact the person who owns it if they have a web site or link.  They might just say yes.
Modify your search criteria.
You can actually find great photos on Google that are available for use.  Most photos you find through the general search don't clearly state if they are, but simple modifications to your search criteria can limit your search to those photos flagged as reusable.
On the Google page, click the "Search Tools" button
In the new toolbar that appears below that, click "Usage rights"
Select "Labeled for reuse".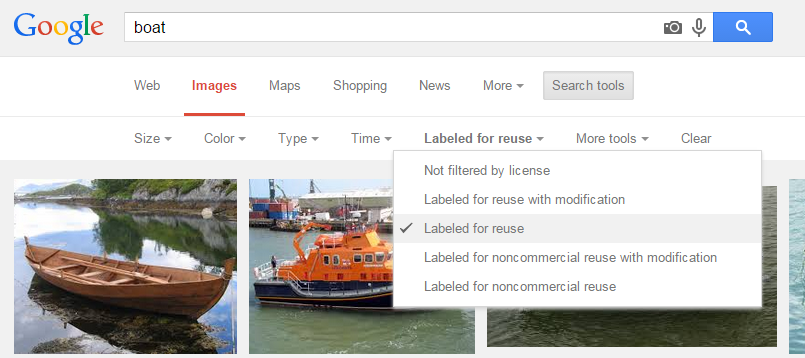 You will notice often that the list of photos returned is not as extensive as the wide-open search, but sometimes you can find some cool gems.  It's worth a try because it's fast and it's free.
More on search modifications
Another major image site is Flickr.  Again, you can click on the "All license" drop-down, which is the default search and select "All Creative Commons".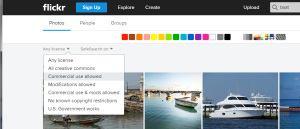 When you find an image you like, click on it and look for the rights declaration. Quite often it will say "Some rights reserved."  If you click on that, you can see what rights can be granted.  Quite often it will allow you to use the photo for free for non-commercial use (ie – blog post) as long as you give the photographer credit and link back to their site/image from the copy you use.
Free image sites.
There are a lot of these.  In seconds, I did a Google search and found listings and listings of sites containing free images.  Some are pretty basic, but some have a lot of images and might be worth a look.  Depending on what type of images you're looking for, and with a little investment of time, you can develop a listing of your favorite go-to sites.
Paid options
For some of the best images, you might just have to pay for them, although that doesn't mean you have to pay much.
My favorite site is Dollar Photo Club. Great high-res photos for $1.  They have a huge selection and I've found some incredible images there.  Using pieces of several photos from Dollar Photo, combined with some mad photoshopping skills, one of my cover artists designed this excellent cover for Saving Face and also the cover for the soon-to-be-released Memory Hunter.  I got killer covers for a very reasonable fee.
I've also used Dollar Photo to grab images for my blog and to design simple covers for short stories I posted on Wattpad.
There are lots of other image sites out there.  I barely scratched the surface.  The bottom line is, know what license restrictions your image brings with it and stay on the right side of the question.  It's not worth the hassle (and likely cost) associated with misusing someone else's property.
Where do you get your images?