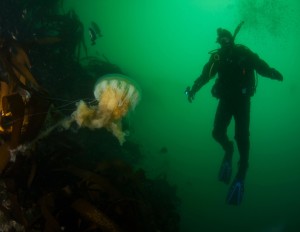 We give a lot of advice on Fictorians, but one phrase seems to come up again and again. "Keep writing." It's great advice, and I say it myself all the time. However, this time I think you should stop. Put your writing aside, temporarily, and go do something else. Take my word for it, and in the end, it will hopefully improve your writing as well.
I myself have taken this perhaps a little too far and I'm working on cutting back now. In the past couple years I've became the president of an astronomy club and a scuba divemaster. I've taken up projects like robotics which has forced me to learn how to weld, 3d print, and build electronic circuits. I've also taken flight lessons, learned to skydive, and have taken many other computer oriented courses. While this has taken up much of the time I could spend writing, it has taught me many things about the world and how we interact with it. I'm pretty sure I could write a far more realistic scene involving someone scuba diving or skydiving now than I could before.
It all comes down to writing what you know. I've had one author tell that he doesn't write much about horses because he hasn't ever been trained in how to ride or care for them. How could a real equestrian stay committed to a novel where the characters, who are supposed to be experts themselves, are making obvious mistakes? Instead, he glosses over the point and instead focuses on what he does know. Having a firm understanding of the mechanics of some parts of your book will allow you to gloss over other parts and still sound like you fully understand every aspect of what you're writing about. Of course, as an author, you have to be careful to keep it interesting to those outside the hobby so you don't limit yourself to a niche. Keep a close eye on your test readers. If you get positive messages from those who enjoy the hobby as well as those apart from it, you know you're onto something great.
There is also the added benefit of gathering people who share similar hobbies. I was first given a copy of the novel "In thin air" by a rock climber. My marine biologist friend urged me to read "Fluke: Or, I Know Why the Winged Whale Sings". If you can train yourself in a skill and really show that expertise in your novels it'll attract others who share the same interests. It'll give you talking points and possibly allow you to expand your reach to podcasts and blogs of those focusing on that interest. This is where you'll be able to go into depth about those little things that would be too specialized to put into the novel. You can let your passions show, which will help attract new readers as well as spread your name in the community.
In the end, what we write is a culmination of all our live experiences. The world's we write exist in our mind. Looking at the sky at night can give you ideas for your space opera, but it's more like the broad swaths of color in the background. Listening to Astronomycast and joining your local astronomy club can help give you discreet knowledge that can build the foundation for your work. It's like adding those fine strokes that can change your generic novel into a masterpiece.
That said, go climb a mountain, dive in the ocean, or fly in the skies. Go take a class and learn something new. Go do something amazing. And after you've finished that, come back and write something great.
Do you agree? Think I've been wasting valuable time away from the computer? Let me know what you think in the comments below!