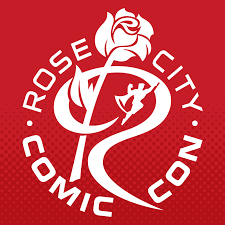 Even though Rose City Comic Con is only four years old it's one of the premier events in Portland, Oregon. It helps that a lot of comic book companies, artists, and game developers call the Pacific Northwest (and Portland in particular) home. There also isn't a shortage of celebrities willing to come to Rose City. This year's guests included Carrie Fisher, Nichelle Nichols, Walter Koenig, Elizabeth Henstridge, Wil Wheaton, Robert Englund, and the legendary Caroll Spinney.
Last year I went as an attendee and had a blast! The heads of programming do a fantastic job of making sure there's something for everyone. The celebrity guests have their Q&A panels, there's cosplay tutorials, gaming, concerts, comic book writing panels, photo ops, and interviews with voice actors. Artist's Alley and the dealer's room are full of wonderful things that make me wish I didn't have a budget.
This year I helped out at the Wordfire Press booth in the dealer room and that gave me a completely different view of the convention. The first difference is that I have a much deeper appreciation for the venders. They're there ALL DAY. Yes, we get breaks so we can eat or pee but other than that we're at the booth from open to close, standing on an unforgiving concrete floor, answering questions about the merchandise, shouting over the din of 30,000 people just so the person standing two feet away can hear you, and wearing our biggest smile for the attendees. IT'S EXHAUSTING! On top of that you're hoping that your sales are enough to cover the cost of being there.
That aside it's still a lot of fun. You get to know your booth neighbors, see all the awesome cosplayers, and watch fans burst into tears when they meet the author they idolize. I got to see a line of R2 and R4 units parade around the dealer hall before it opened to the public. I got to be a part of the marvelous organized chaos that is booth take down. Seriously, it's fun! Everyone is so tired at that point it makes the jokes and double entendres twice as hilarious.
As much as I would have liked to go to panels with my friends I don't regret spending the entire weekend at the booth. Instead of just attending the convention I got to be a part of it and that's a higher level of awesome.