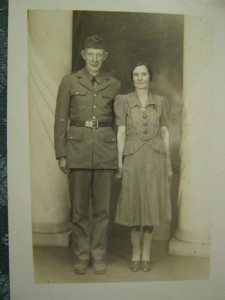 Grandparents love grandkids, and they're usually not shy about begging for more.  The good thing is, they love talking about themselves and telling their stories even more.  We can leverage that fact for a wonderful family event, while gaining a break from the constant pestering.
How do we do all this?
We tell stories.  Their stories.
I'm a novelist, and I love great stories.  But the more I learn about life, the more I study history, the more I realize that reality is crazier and wilder and intense than any story I could invent.  Sure, history may be missing magic and dragons, but lots of real-life experiences could never be included in stories.  Readers simply wouldn't believe it.
We believe it when Grandma and Grandpa tell it, though.
So get them to sit down and tell you, "In my day . . . "
Once the floodgates open, you might be amazed by what you'll hear.
Writing those stories is a ton of fun, because we have a connection with them.  Most of us are interested in our genealogy, in our family roots, and in the stories of our ancestors.  The great thing about interviewing grandparents (or uncles or aunts or great-grandparents) is we can get the stories right from the source.
Even more importantly, the holidays are almost here.  Doing an interview with grandparents not only distracts them from pestering for more grandkids, it also sets up one of the best Christmas presents you could give them.  So first, ask them about their personal history, and anecdotes they remember of their parents and grandparents.  This is best done using a voice recorder, since most of us don't type fast enough to capture everything, including their tone and voice.
They'll love it.  Even more if you have one of your kids interview them, after preparing a list of questions to help your child keep the grandparents talking.  I've seen grandparents spend hours on the phone telling stories to my kids, and everyone's having a great time.  It helps them connect with the new generation, and makes their history real.
When finished, transcribe the stories.  You'll have the story of their history and some of the major events of their lives, and can present it to them, perhaps bound in a beautiful book.  If you can scrounge up some old family photos, like he one I included above of my grandfather, it really helps bring the history alive.  It's a present they'll love, and one they can pass down through the years to other family members.
In my family, we've done a couple of interviews already.  Next step is to complete transcription and produce the final books.  I'm hoping we can do it as part of a holiday project in the family.
What about you?
About the Author: Frank Morin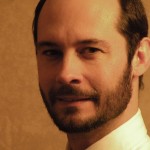 Frank Morin loves good stories in every form.  When not writing or trying to keep up with his active family, he's often found hiking, camping, Scuba diving, or enjoying other outdoor activities.  For updates on upcoming releases of his popular Petralist YA fantasy novels, or his fast-paced Facetakers alternate history fantasy series, check his website:  www.frankmorin.org