Back in college I took a creative writing class. I expected it to be a novel writing class that would allow me to really start to hone my craft. I found out on the first day class that the course catalogue was a bit misleading. Yes, it was a creative writing class but we would be writing poetry. All freaking term.
I hate writing poetry.
I really do. Not because I'm bad at it. I'm actually pretty good — and no, I'm not exaggerating my skills. I won a poetry contest in 2013 with a haiku. I simply hate writing poetry. I also hate being forced to listen to poetry that a Vogon would be proud of. One of my classmates, a 40-year-old woman with no grasp for prose, only wrote about one thing the entire term: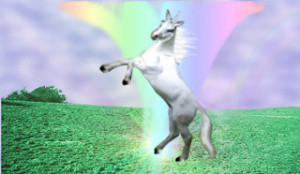 It was like being imprisoned in a Lisa Frank Trapper Keeper.
Now what does this have to do with the dark side of my brain? Well, other than the murderous rage that rose every time this woman read her work aloud in class, if I didn't I want to inflict the same torture on my readers I needed to make sure that everything wasn't rainbows and kittens.
There's nothing wrong with rainbows, or kittens, or unicorns, or even Trapper Keepers, and by themselves none of them are torturous. But when a tale is nothing but fluffy Trapper Keeper unicorns frolicking in a rainbow then there's a problem. Once the LSD wears off it's easy to see that this is why the "torture your characters" rule exists. Not only is a story more believable when there's a major conflict, it's more palatable too.
However, becoming comfortable doing all sorts of horrible nasty things to your characters can make you feel like a sociopath. That's normal. And for heaven's sake don't shy away from it. Embrace your dark side, your inner Emperor Palpatine. Not only will it help you take your stories to the next level (by amping up the danger in new and interesting ways) but you can also get a better understanding of yourself. It can be a therapy of sorts. And after unicorn poetry we could all use some therapy.