A guest blog by David Heyman.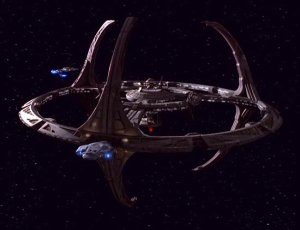 As a reader and writer of fantasy, I am strongly drawn to stories that emphasize worldbuilding. I think it's a fascinating process: creating a living breathing world, real and vibrant enough that the reader will believe that world exists even after closing the book. When done well, worldbuilding allows the story to come alive, creating emotional resonance and allowing a rich backdrop onto which the writer can place their characters and dilemmas.
On television, one of my favorite examples comes from a somewhat unlikely place. Traditionally worldbuilding is the domain of new science fiction and fantasy properties, but in this case I am going to explore a show that was set in an already well-established universe: Star Trek Deep Space Nine.
In the writer's room of the television Deep Space Nine, they had a common response to a writing problem or challenge: "make it a virtue!" Take your problem and find the strength in it, use that problem's challenges make your story stronger. This particular show's primary problem was one of motion, or the lack thereof. The USS Enterprise (both original and D) of the first two Star Trek shows was always travelling, always moving. Each week there were new worlds, new civilizations… new wonders to entice your audience.
Deep Space Nine was a space station- -it wasn't going anywhere. Sure, the writers could have the 'wonders' come to the station (and they occasionally would) but they also took this problem and made it a virtue by embracing the world building opportunity it represented. Instead of seeing the amazing worlds and galactic wonders of the external galaxies, DS9 would draw you in by exploring the details of its characters and setting.
Exploring the emotional depths of the leads was not uncharted territory for Star Trek, but never before had the series spent so much time expanding on the backstories of not just the main characters, but a parade of recurring side characters as well. No more was the cast trying to solve the dilemmas of the 'guest star' of the week, forcing the viewer at home to try to care about the problems of someone they just met. Now we were visiting the lives of old friends (and enemies), learning more about them as they worked through complex emotional and morality puzzles.
By staying with the same set of primary locations (the station as well as key planets in the lore) the show again was able to add interest by going deeper rather than farther. Depth over distance, allowing the worlds of Bajor, Cardassia, the Dominion and Deep Space Nine itself to be expanded and explored in detail never before tried on a Star Trek show. Each of these repeating locations thus gained a life of their own, becoming characters in their own right with diverse and recognizable geography, politics and cultural motivations.
In later seasons, the series then took these twin strengths of worldbuilding and character depth and upped the ante by embracing serialized storylines. Common place now, these were still quite uncommon in the speculative fiction side of television back in the early 90s, and unheard of in Star Trek. Starting with three or four episode arcs, the series got bolder as time went on, with the final two seasons all being primarily driven by one story line.
This is not to say that Deep Space Nine never told a story in the more traditional Trek format, nor that the other Trek shows never focused on developing their characters or expanding the worldbuilding beyond introducing new races. (Next Generation, for example, did wonders for the Klingons). In the large sense though, the original series and Next Generation were primary shows about the adventure the characters were on, whereas Deep Space Nine though staked out a claim as a show that was essentially about itself- -its characters and the world they lived in day to day.
I feel it was the foundation the writers had laid with their characters and their worldbuilding that allowed this experiment to live long and prosper, if you will. By bringing viewers deeper into their characters and their environment, they had the luxury of taking them on longer journeys, with bigger emotional payoffs.
As a writer, I often think back to Deep Space Nine and the lessons I learned by watching it. Like most authors, I write the stories I want to read- -for me those are stories that travel deep inside their character and their world, building in the reader a bottomless well of emotional resonance.