A guest post by Sarah Golden.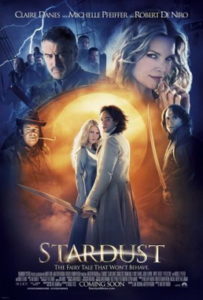 The film StarDust has everything a story needs to thrive in the hearts of dreamers. There's the hero- Tristan Thorn, the villains: the three witches and an evil Prince. A goal- to catch a falling star and a wonderful message that the process of growth can happen only when you decide to be yourself.
I fell in love with StarDust when I read the book by Neil Gaiman, and I was fascinated by the turn of events that lead Tristan on a path to adulthood. While the story is a little more serious in the book, the film uses elements of the fantastical to convey the same spirit and message as the original tale.
The story itself plays out like a fable. Tristan's growth is the backbone of the tale, because it is a tale we can all relate to. The process of growing up and discovering what you are capable of. Tristan learns this as he journeys through the fantastic world of Stormhold, and along the way, he learns his own strengths- weaknesses and values.
Tristan begins the film as a boy desperately in love with a fickle lady named Victoria. Blind to her condescending behavior, he does the unthinkable, and he promises to retrieve something nearly impossible to prove his love for her: a fallen star. Once he meets the star, things change. The star has a name- Yvaine, and she has no desire to go with him as a prize for his girl.
As the two get to know each other, they discover that Tristan is not the only one after the star. Two villains: a witch and an evil selfish prince are following their trail.
It is only when Tristan and Yvaine face the brink of death that they discover each other's company isn't so bad.
They make friends with a sky pirate who teaches both of them how to be sophisticated and confident. This is the moment Tristan's quest changes, and Yvaine's desire to go home has changed into spending as much time as she can with Tristan. Tristan soon realizes that Yvaine has become more dear to him than Victoria, and he no longer wants to bring her back with him.
The characters' motives change, but their greatest conflict appears when the witch catches up with them. Yvaine is taken, and Tristan goes after her as a hero. He wins her heart in the end, and becomes a king- finally learning his capabilities and discovering where he belongs.
The story of StarDust is a timeless tale about following life wherever it leads, and sometimes the path will take you on a journey that you never expected, but it could lead to an even better place. Tristan represents the hero in all of us.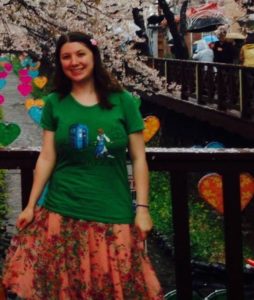 Sarah Golden is a creative writer who draws inspiration from fairytales and folklore all over the world. She is a Kingdom Hearts addict and now owns her own keyblade! She is also a proud tour guide of Beast's Castle at Magic Kingdom. With a Bachelor's degree in English, Sarah hopes to share great stories through the written word and inspire others to be the heroes of their own story. She has written her first novel, and she is currently on a quest to publish it. Most of her other writing can be found on her blog Bara Lotus Garden:
http://crystallizedheart.blogspot.com