When we talk about genre-blending, we'd be remiss if we didn't address the Mûmakil in the room (or the black hole if you prefer). After all, when we speak of "SFF" in our genre shorthand, we're really describing two separate genres, Science Fiction and Fantasy. And the truth is that many, if not most SFF stories are actually a combination of the two.
Even a casual glance will yield many, many examples where the two genres are blended together to great effect. Though almost always referred to as one or the other, properties as diverse and popular as Star Wars (called Space Fantasy by George Lucas himself), The Dark Tower, Lost, and Doctor Who all exhibit some degree of shading between the two ostensibly separate genres.
Does your science fiction story contain technology that, while plausible, also skirts the edge of Clarke's Third Law? Does your fantasy magic system or worldbuilding adhere to a well-established set of internal rules in the vein of Robert Jordan or Brandon Sanderson? While you can certainly cite examples of stories existing purely in one camp or the other, the reality is that Science Fiction and Fantasy are generally grouped together for good reason.
As with any literary technique, there are good and bad ways to employ this genre-blending.  But rather than pretend I'm an expert on the subject, I'm going to highlight the work of a couple of lesser-known authors who have mashed Science Fiction and Fantasy to good effect*.
*Note: One of my examples is technically more a blend of Horror and Science Fiction. Now, I know Horror is its own genre, but for the purposes of showcasing a fascinating bit of worldbuilding, I'm paraphrasing Daniel Abraham and considering Paranormal Horror to be a form of Fantasy set in a malefic universe. *ducks*
For starters we have R. Scott Bakker's The Second Apocalypse meta-series, consisting of two sub-series: the trilogy named The Prince of Nothing and the tetralogy named The Aspect-Emperor. These are grimdark epic fantasy at its grimmest and darkest (think George R.R. Martin dialed up several notches), and Bakker creates a fascinating world with a history nearly as detailed as Tolkien's Middle Earth. His philosophy-based magic system is more powerful the more pure a sorceror's ability to grasp the Meaning (capital "M" intended), and those sorcerous schools that have to rely upon Analogies rather than Abstratctions produce sorcery of inferior power.
But it's the two SF elements I want to discuss. In the first, an Übermensch-like group of warrior monks have hidden themselves away for 2000 years, practicing eugenics (and terrible neurological experiments) upon themselves over all that time in order to become beings of perfect logic, utterly devoid of passion (and thus, they believe, utterly in control of their own actions in a way no other humans are). The end result is almost a separate species, so attuned to subconscious cues that they are able to essentially read the thoughts and emotions of normal humans better than the humans themselves are.
Every epic fantasy needs a Big Bad, and instead of a fallen angel-type character in the vein of Sauron, Bakker gives us the Inchoroi, an alien race whose ship (called the Ark-of-the-Skies by the inhabitants of Bakker's world) crash-landed on his world several thousand years prior to the start of the series. Their overriding goal? They've been traveling from world to world in their vessel, exterminating the inhabitants of each in order to sever the living world's connection to the Outside, Bakker's equivalent of an afterlife. It turns out that morality in the world of The Second Apocalypse is black and white and absolute, and the actions of the Inchoroi have guaranteed their damnation by the gods after death. Only by severing the connection between the living world and the dead can that fate be avoided.
Given its uncompromising view into humanity's ugliest sides, The Second Apocalypse can be a rough read, But given its willingness to tackle issues of free will and the self, issues that modern neuroscience (a major influence of Bakker's) are tackling currently, there is no other epic fantasy like it.
For my Science Fiction-based example of genre-blending, I present you Peter Watts' brilliant (and Hugo nominated) book Blindsight. It's an alien first-contact hard-ish Science Fiction that I'm not sure will ever be topped for me. His take on truly inhuman aliens is both believable and massively unsettling (and Watts himself spent time as a research biologist), but it is his science-based vampires that I want to talk about today. In Peter Watts' Earth, the legend of vampires sprang up from a human subspecies that went extinct thousands of years ago. While they lived, the vampires evolved to hunt humans (and thus developed significantly more strength and brain power than us) as well as the ability to hibernate for long stretches to allow time for human populations to bounce back and forget the vampires existed.
But all that brain power came with a cost. The vampires would fall into a lethal seizure at the sight of any true right angles (like, say, a cross). Right angles are not something often encountered in nature, but as soon as baseline humans began constructing habitats and cities filled with right angles, the vampires went extinct. But the lure of all that brain power proved too great to resist, so in the near-future world of Blindsight, advanced genetic engineering has been used to resurrect the vampire subspecies. One of their number is deemed the perfect leader of the expedition to investigate the alien presence that has recently arrived at the edge of our solar system.
Reading Watts' book, you'll find yourself half-convinced that the vampire subspecies really did exist, so convincing is his biological background work. And much like Bakker's works, Blindsight deals with issues of consciousness and self and what those concepts even mean (if you can't tell, these issues are a pet interest of mine).
The combination of Science Fiction and Fantasy has produced some of our most enduring works of literature and popular culture. So if you are a purist who prefers one genre to the total exclusion of the other, think again about some of the works you have read and enjoyed. You may find the line dividing the genres is a lot blurrier than you realized.
About the Author: Gregory D. Little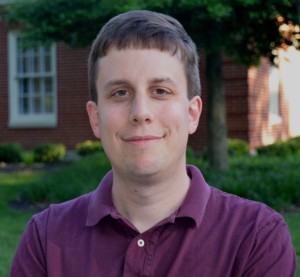 Rocket scientist by day, fantasy and science fiction author by night, Gregory D. Little began his writing career in high school when he and his friend wrote Star Wars fanfic before it was cool, passing a notebook around between (sometimes during) classes. His first novel, Unwilling Souls, is available now from ebook retailers and trade paperback through Amazon.com. His short fiction can be found in The Colored Lens, A Game of Horns: A Red Unicorn Anthology, and the upcoming Dragon Writers Anthology. He lives in Virginia with his wife and their yellow lab.
You can reach him at his website (www.gregorydlittle.com), his Twitter handle (@litgreg) or at his Author Page on Facebook.