If you're of a certain age in the U.S., you were raised with Westerns. John Ford and Sergio Leone filled cinemas and TV screens with John Wayne and Clint Eastwood, the dust of cattle drives, the thunder of cavalry, guns, and the war whoops of Indians. By the time of my childhood, Western films were in their declining years, covering ground so well-trodden the genre itself had become cliché, a collection of easily recognizable and increasingly tired tropes.
However, the genre never quite made it to the grave. Since the Western film's heyday, we've been graced with some spectacularly good fare: Tombstone, Unforgiven, Tarantino's Django Unchained and The Hateful Eight, the remake of True Grit, the HBO series Deadwood, and Dances with Wolves.
The things that these examples do exceedingly well, and I would submit to you, the reason they're so damn good, is that they take the tropes and twist them. Unforgiven puts an unforgettable twist on the Hired Gunfighter. Tarantino's characters are nearly all recognizable archetypes—except they've been subverted or twisted in unexpected ways. The Coen brothers' remake of True Grit takes Charles Portis' brilliant novel and puts little Maddie Ross squarely back in the protagonist's seat. Deadwood so brims with fascinating characters, crackling dialogue, and Shakespearean tragedy that its cancellation after only three seasons is one of the great travesties of modern television. Dances with Wolves, with its sweeping grandeur, epic depth, and visionary cinematography, is credited with revitalizing the Western film, and it does so by turning the tables on the Indian Wars. Without this film, none of the others might ever have been made.
But just how far can you twist the tropes? Can you have a science-fiction Western? A horror Western? A fantasy Western? Absolutely. Mix in any of these ingredients and you have what has come to be called The Weird Western.
The earliest sci-fi western mash-up that comes to mind is Westworld, complete with android gunfighters. Another notable is Back to the Future Part III, which nowadays we might call a little steampunk. The Wild West is a favorite milieu for steampunk authors, forming their own sub-genre of Western mash-up, including the Fictorians' own Quincy J. Allen. Are there other SF-Western examples? Sure, but we won't talk about Cowboys and Aliens.
Horror is a spice that mashes up tastily with Western stories. The Old West is replete with ghost tales and Native American mysticism. Murder, injustice, and brutality abound, all fodder for stories of the unquiet dead. Haunted trains, phantom stage coaches, vengeful medicine men, ancient knowledge from the dark depths of human history… are your creative juices flowing yet?
So the first step to a good mash-up is to recognize the tropes. You have to understand the nuts and bolts of a genre and how they fit together into the moving parts of the story. Throw in the things you love, the things you want to write about. A sprinkle of vampire saliva, a touch of decomposing zombie, a love story between a man and his raw meat, an angry deceased mother-in-law.
Twist and subvert the tropes into interesting new shapes. Take the Town Marshal archetype and do something with him you've never seen before, something interesting, something fun, something unexpected. In Death Wind, we made the Town Marshall an old man, too stubborn and grumpy to admit he's forty years past his prime.
This kind of subversion is not new. Even in the 19th Century, the Western genre had become staid and cliché. The profusion of dime novels and penny dreadfuls had already created the tropes and archetypes we know today. In 1898 Stephen Crane, author of the Red Badge of Courage, wrote a brilliant subversion of the Western in his short story "The Bride Comes to Yellow Sky," in which he plays with tropes like the Town Drunk, Town Marshal, and The Shootout with great insight and cleverness. The key to any good mash-up is play. Jam things together to see what works, what sounds fun.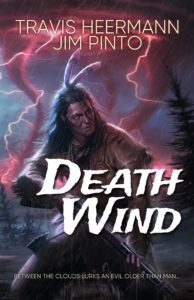 A few years back, my friend Jim Pinto and I decided to collaborate on a screenplay. We wanted to do something neither of us had ever seen before, so we decided to mash up two genres we loved: horror and Westerns. But how to make it different from other notable horror Westerns around, such as The Burrowers and Ravenous? We threw in another ingredient we both loved: the Cthulhu Mythos of H.P. Lovecraft. And that's when the fun really began. We were in undiscovered territory. Throwing together a collection of characters under-represented in Western fiction and film, we stirred them together into a juicy stew of crisscrossing conflicts and ended up with Death Wind, a screenplay that placed highly in several screenwriting contests, including Second Place at the H.P. Lovecraft Film Festival Cthulhu Con in L.A. and Grand Prize at the Cinequest Film Festival in San Jose in 2012.
After this success, it was a no-brainer to adapt the script into a novel. Death Wind will make its literary debut at Dragon Con 2016, published by WordFire Press.
About the Author: Travis Heermann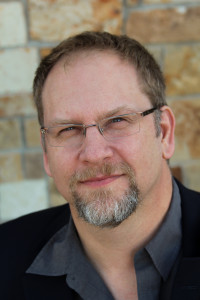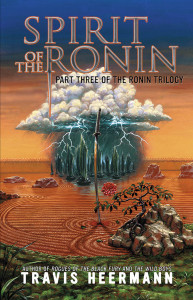 Travis Heermann's latest novel Spirit of the Ronin, was published in June, 2015.
Freelance writer, novelist, award-winning screenwriter, editor, poker player, poet, biker, he is a graduate of the Odyssey Writing Workshop and the author of Death Wind (co-authored with Jim Pinto), The Ronin Trilogy, The Wild Boys, and Rogues of the Black Fury, plus short fiction pieces in anthologies and magazines such as Apex Magazine, Perihelion SF, Fiction River, Historical Lovecraft, and Cemetery Dance's Shivers VII. As a freelance writer, he has produced a metric ton of role-playing game work both in print and online, including content for the Firefly Roleplaying Game, Legend of Five Rings, d20 System, and EVE Online.
He recently returned to the U.S. from New Zealand with a couple of lovely ladies and toting more Middle Earth souvenirs than is reasonable.
You can find him on…