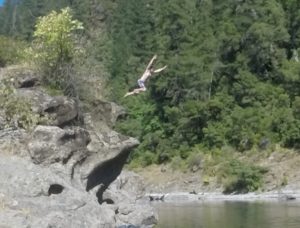 I love the challenge of this month's theme. It catapults me right out of my comfort zone. I write big novels where I can take the time to explore concepts to whatever end and it's common to pound out over 10,000 words in a single day.
A story made up of only 55? Bring it on.
There's a great saying:
Wisdom is knowing how to avoid making stupid mistakes.
Wisdom is gained by making stupid mistakes.
My story was inspired by a recent four-day hiking trek along the beautiful Lower Rogue River Trail. Thirteen hearty souls embarked on the 42+ mile journey and most of us reached the far end intact, with a few blisters and, in my case, the loss of one toenail. And what better activity to do during a long, hot hike along a river than to find the best rocks for jumping from the heights into the cold waters below?
We had a blast.
I hope you enjoy my story: The Plunge
Everyone else had hesitated before jumping, so of course I leaped without even looking.
Weightless, exhilarated, laughing, I looked down.
What an idiot!
Definitely time to scream.
The impact was brutal as I plunged into icy depths, feet stinging, and water shooting up my nose.
I surfaced, but smiled away their worry.
"Piece of cake."
About the Author: Frank Morin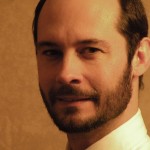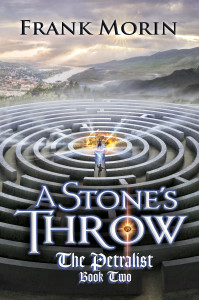 Frank Morin loves good stories in every form.  When not writing or trying to keep up with his active family, he's often found hiking, camping, Scuba diving, or enjoying other outdoor activities.  For updates on upcoming releases of his popular Petralist YA fantasy novels, or his fast-paced Facetakers scifi time travel thrillers, check his website:  www.frankmorin.org