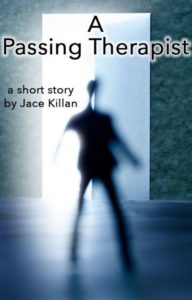 "Martin," I hear the voice say. "Martin."
I raise my head from the desk.
"I'm here to help." A man stands in my office doorway, but with my lights, off he's just a backlit silhouette, his face shrouded in shadow.
"I came as quick as I could," he says.
"Come in." I blink hard to dismiss the blur in my eyes. "Turn on the light?"
With a flash my vision returns. I squint, allowing my eyes to adjust to the brightness. I see an older gentleman, dressed in a brilliant white suit.
"Please, take a seat," I say.
He does.
He's a slender man with glasses and a trimmed mustache; the only indication of his age is his grey hair. He tilts his head back and looks down his nose at me in an uncomfortable stare.
"What's with the outfit?" I ask, trying to lighten the mood.
He offers a slight smile. "I just came from a funeral for one of my clients, a sweet gal—decided to take her life." He shook his head unapprovingly.
"Aren't you supposed to wear black to a funeral?"
"Most do." He leans forward in his chair. "Well let's get down to business, Martin. Tell me what's troubling you?"
As if by command, I shift my gaze from his face to the papers on my mahogany desk. "What do you mean?"
"Obviously, something is bothering you. As a therapist, it's my job to help with this sort of thing. Have you been depressed?"
I slouch in my chair, the leather's high-pitch moan expressing resistance. "I guess so."
"Good. Honesty is the first step, you know. Have you been stressed?"
Many thoughts are muddled in my mind; I try to dissect them, isolate them, but as I do they fade away. I look around my office at the stacks of files in disarray, strewn across my desk and on the floor. In the corner lay a hoard of fast-food wrappers, mingled with junk mail and empty beer cans—traces of my discretions discarded—or collected.
"Yeah. I've been stressed," I admit.
"About what?"
"It's this damn lawsuit." Emotion swells in my gut. My jaw clenches and I look at the ground, at anything but him.
"Go on."
"It's not my fault," I say, louder than I expected. "I was cheated, but I'm the one being sued. I'm on the hook for everything—for nothing." My voice cracks a little.
"I'm not following you."
I stand from my seat and slam my fist onto a stack of papers. "I didn't do anything wrong, but they're taking everything away from me." In a burst of rage I fling the stack on my desk, scattering documents across the room, a blanket of white covering the office floor.
He looks away, ignoring my action. He waits a moment before returning his gaze into my eyes. "What do you mean by everything?"
"Everything, you moron. I've lost the house, the cars, the boat, the land, the business." I raise a finger each time I name a possession. "I lost everything."
"So now you have nothing?"
"Are you patronizing me?" I sit down and cross my arms.
"What about your family?"
I think for a moment, trying to summon their image from the back of my mind but it doesn't come.
He points to a picture on the wall. "Where's your wife?"
As I stare at the photograph, a longing grows within me. A youthful man embraces a pretty woman, sitting on a park bench, surrounded by fall foliage, while two small children smile and a dog sits guard. That isn't me. Not anymore.
The therapist persists like a conscience, "where are your son and daughter?"
They're usually in the house playing, being loud and bothering me but I hear nothing. I've been so busy, so engrossed in my task; for a moment I've forgotten. I focus on the faces in the photograph and I remember. "They're out of town with my sister."
"Did you lose them?"
"I just told you that they're out of town with my sister?"
"I'm only referring to what you said about losing everything. Did you lose your family too?" He sits in his chair, almost expressionless, too calm, too peaceful, looking down on me, judging me.
"I don't know, maybe."
I wait for a reply but there is nothing, only silence—no sound of breathing, no clock ticking. I look at the timepiece; it is still. Batteries must've died. The therapist remains silent. I have to fill the void with something, anything.
"Cathy and I have been struggling for awhile now. It's this lawsuit. It's destroyed us; it's destroyed me." There. An admission, maybe he'll ease up.
But he doesn't. His eyes continue to peer, to condemn. So I let it out. "Okay. I've probably lost all of them, is that what you want to hear? I don't know. Maybe I don't care. She was probably only in it for the money and that's all gone. And the kids never liked me anyways." It's his turn to talk.
"It sounds to me like you're saddened because of your loss of everything, but everything to you means everything material. It appears you're trying to minimize the pain of what you've really lost."
"Now you're not making sense." I cross my arms.
"Perhaps not." He leans forward in his chair, looking–peering–into my soul. "So what are you going to do about the depression?"
"Do? What can I do? Aren't you here to help me? Give me some pills, some advice. Tell me what to do."
"I don't prescribe medicine. I'm only here to help you realize as gently as possible."
"Realize what?" I ask but I don't mean to. I'm not sure why I continue to play his games.
"You've lost everything."
"I know!" I stand, slamming both hands down hard on the desktop. "Haven't you been listening to me?"
He doesn't flinch. "You've lost Cathy."
It hits me like cold water. He's not really a therapist. He's here for something else.
"Are you her attorney? Does she want a divorce?"
"Martin, I'm a therapist but not the kind you might think. Cathy's thought about a divorce, but that doesn't really matter now." His gaze shifts away from mine for the first time since we've been talking. He's looking at my desk.
"Why?" I ask. "Because of the lawsuit? Am I going to prison? Are you with the FBI?"
He shakes his head, seemingly surprised with the inquisition. "Unfortunately Martin, your depression will be your prison."
"If you're really a therapist, then help me. Please, help me." The emotion in my voice surprises me. I struggle to hold back tears. He was right. My depression has me bound.
"I'm trying to help you, son." His eyes look at my desk again. I follow his gaze, looking at my side. Turning my head a little, wiping the tears from my eyes, I see a pistol resting on the desk. I look back at the therapist who offers a soft smile as he nods his head.
"You want to know what I'm going to do about my depression? Maybe I should kill myself and break free from the prison." I reach for the gun, its handle moist. I look at my hand covered in blood and notice the crimson puddle on my desk, spilling onto the floor.
"Martin," he says, "I'm trying to help you realize that you already did."
I live in Arizona with my family, wife and five kids and a little dog. I write fiction, thrillers and soft sci-fi with a little short horror on the side. I hold an MBA and work in finance for a biotechnology firm.
I volunteer with the Boy Scouts, play and write music, and enjoy everything outdoors. I'm also a novice photographer.
You can read some of my works by visiting my Wattpad page and learn more at www.jacekillan.com.