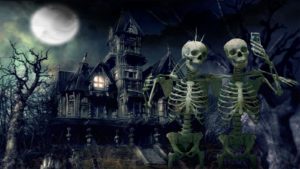 The dead arise
with a skeleton sheen.
Be careful when you're out
on Halloween!
October draws to a creepy close, full of little witches, ghosts and goblins out to fill their pillowcases and plastic pumpkins with tooth-decaying treats. Remember not to take a selfie in the moonlight or you may discover you don't look as well as you did this morning.
We hope you enjoyed our October theme of dark fiction with a twist of pulp history tossed in for good measure. There are plenty of long-deceased authors whose works survive in tattooed dead-tree format and electronic mediums. Several of our Fictorians have dark fiction works for sale, or you can even check out Gutenberg.org and search for "ghost" to find scary tales from folks like Algernon Blackwood and Charlotte Perkins Gilman.  If you prefer to get a nice collection, perhaps consider Ancient Terrors Volume 1, since both authors are contained therein.
Everyone here at the Fictorians wish you and yours a delightfully scary and fun Halloween. Above all, be safe, be warm, and make sure you brush your teeth after gorging on sweets!