It really is hard for me to accept that 2016 is almost over. In many ways, it still feels like the year just started a few weeks ago. This year has been one with a lot of changes for me: personal changes, professional changes and changes to my writing life. Change can be scary, but it can be positive too.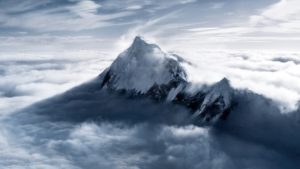 WRITING MY WAY UP THE MOUNTAIN
On the writing side, 2016 is dominated by Under Everest, a mountain (ha ha) of work that has been the primary focus of most of my creative energies this year. Merely a concept back in January, it is now only a few weeks from first draft completion. Working on this novel has been an education in itself, a series of fits and starts as I hammered out an outlining and writing process that works for me. The first novel I've ever written with the intent from Day 1 of publishing it, I'm very proud of what it has grown to from the small hill of ideas it started as. I'm approaching the summit, with a descent into revisions come early 2017.
Ok, enough mountain puns. I know there's been an avalanche of them already. 
In other writing progress, I've joined the Fictorians as you can see! I've been happy to guest post here in the past and was extremely flattered when I was asked to join full time. It's been a fun experience so far, and I'm very fortunate to be writing alongside such talented folks. (They're nice folks too!)
I did write one short story this year, an attempt at landing a slot in the Dragon Writers (Makes a great gift!) anthology, which benefits the Don Hodge Memorial scholarship fund. While I did not get accepted, I received very nice comments from the editor and was proud to have been in the running for a while, considering the whole story was written in about a two day period. I wish I could have had my idea earlier before the deadline, but that wasn't the way things work. It was still a great experience, and I have a story I can polish up and send out some day.
All year long, I had the pleasure of an amazing writing group running alongside me. All of us alumni from a 2015 Mary Robinette Kowal workshop, we have been meeting bi-weekly ever since. As talented and kind a group of people as I have ever known, I continue to benefit from their feedback and friendship. Coming up in January of 2017 – our second anniversary!
Back in February of 2016 I attended my second Superstars workshop, this one being just as fantastic as the first one. Even better, since I got to attend the entire session this time, and even braved my unusual diet to attend the VIP dinner. Everyone was (as always) super-nice and I'm excited to come back for my third in 2017!
PROFESSIONAL CHANGES
On the professional side, in March I said goodbye to a job I had held for eight years. It was an amicable and emotional departure. It was hard to leave a group I personally had started in 2008 as the first engineer on the team, only to build that group to a 50+ strong global organization over the next eight years. I couldn't be prouder of all those awesome folks, and I'm still their number one fan. The time had come for me to take a break though, and I am very fortunate that hard work, sacrifice and a little bit of luck gave me the ability to do so.
THE PATH AHEAD
Looking forward to 2017, I have a lot of plans. Under Everest needs revisions and then a publishing home, finding it one will be a fun, new process. My whiteboards runneth over with more ideas: novel-sized, novella-sized and short story sized as well. I'd love to polish off that fantasy novella I was almost done with before Everest took over, I do have a whole series idea I'd love to start on, and more Everest ideas as well. One problem I never have is what to write!
Whatever comes, I'm lucky to have so many wonderful writers in my life cheering me on, offering me feedback and advice, and just being great friends. I am also tremendously fortunate to have the love and support of my family, who want to see me get these ideas and stories out into the world just as much as I do.
I hope everyone has a great holiday season and here's to a fantastic 2017 for us all!