Attraction is easy. Desire is a deep and constant companion for most people. Even advertisers know this. We all have idle thoughts. People go out on a weekend looking for sex, and may find it or not. This is not sexual tension.
For sexual tension, you need a compelling sexual attraction – something that really pushes a character to do something they might not do otherwise.
Often sex and romance get lumped together in fiction. Both serve similar functions in a story, and often the protagonists' sex is an expression of the love.
But not always. People can strongly desire sex with people they don't love first, or at all, and it can have consequences other than love. Sex can also be an exchange, or a pressure, used in relationships characterized by imbalanced power. People can deny their true sexual attraction and still have pleasurable sex with others – even of different genders than their natural preference – who are not their first choice. Or, all of the above at once!
Sexual tension is a thing of the body, of the senses, of the id. It is the realm of the cad, the rake, the femme fatale – and yet, it is for all of us. It is manipulative and often shadowy, if not actually dark. It is our selfishness, our self-indulgence.
In fiction, sexual tension has something inappropriate or unwise – from the character's view, or from the story's. I don't mean to demonize sex, or advocate a subtle puritanism, but fiction is always a distorted and extreme depiction, and sex is always a vulnerable state.
Characters can deny it, or give into it. Giving in is inherently heedless – if the sex were uncomplicated, they would just have it. It may lead to ruin. It may be for the good of the persons involved if not the society that denies them. It may even lead to romance and love, but not easily, and not without great disturbance in other aspects of the characters' lives.
For good or ill, sexual tension leads characters astray.
The endless no
Not all attractions get acted out. Sometimes they linger, unacted on. Long enough and these denials can age like wine into bonds of friendship, or fester into ugly thoughts, or simply drag at us, like tides from a moon we're bound to.
This works well for series characters, whose relationship can develop over several stories. In a standalone, the reader often comes in the middle of the relationship. In either case, seeing the tension is often more economical than backstory.
Be careful, however, to keep it in its place – after all, the characters are by definition in denial. When we see two characters drunk, or on their spouse's arms at cocktail party, you can get to mutual sexual interest quickly and believably. In a crime scene investigation, it's unprofessional, badly comic, and disorienting.
Locks and keys
As I said earlier, uncomplicated sex is not tense. If sex starts with a tension beyond simple anticipation, an attraction has to be more than the opening of a door. It has to be an unlocking, or a hacking, someone gaining access.
The disturbance I mentioned comes from this access, or can precede it. A person otherwise capable of denial might have had a separate major change in perspective making them less in control of their emotions. Or, they might simply find a person uniquely attractive person. I combined these in my novel The Demon in Business Class. When my rival protagonists first meet, they respond deeply on a sensory level, each for their own well-foreshadowed reasons. They've also both been through enough change in their recent lives that they are too compelled by their feelings. As my Gabriel later admits, "I was tired of doing the smart thing."
You don't have to underline what the character wants. You can even provide them with regular dollops of something they don't want, even if it's their normal. Charlaine Harris did this overtly, making Sookie Stackhouse unavoidably psychic, and vampire Bill Compton her first experience of not knowing too much.
Conditional attraction 
The ugliest sexual tension is also the most interesting – when it isn't mutual. A character's deep response to a disinterested, or manipulative, other gives the other power.
Usually these come on fast, giving the character no time to think. Also, once another is empowered, they quickly take what they want, or develop contempt.
Remember that even in this situation, you need to consider both characters. It's not enough that a person find themselves vulnerable to a predator. Why? It's rare that another is so compelling to a healthy ego; maybe the character's real weakness is a belief in a distorted version of their true self.
Meanwhile, the predator has to know its prey. Maybe it adapts to attract a known mark, or just happily senses the particular insecurities it knows how to enthrall.
The empowerment can come after the possession, too, like Scheherazade's tales. If a powerful person takes on an inferior for a lover, but then is drawn into vulnerability, the stakes for the attraction become more compelling.
The movie Looper has a lovely and strange conditional attraction. The mother seduces the young hitman, not for any specific reason, and with a powerful excitement – an intuitive empowerment. She wants him when he is most lost, to get him to protect her son. It's never stated, it's hot, but it's clear he's the one changing, not her.
Closing the deal
Just as the moment of attraction says more than backstory, the sex that comes from the tension can express the tension economically. Sex isn't a mindless act. Even if characters give into passion they still know themselves. They also tend to enjoy it. In positions of weakness, or sudden strength, they can still embrace that pleasure.
Sex goes great with any mature genre. Enjoy exploring all the unromantic reasons characters get together!
---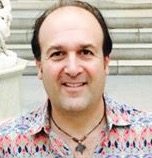 Anthony Dobranski writes stylish fantasy and science-fiction novels with big ideas and desperate characters. His first novel is the modern-day international fantasy
The Demon in Business Class
, from WordFire Press. He is currently writing his second novel.
He is a native of the Washington DC area. In his first career he worked for AOL, in Europe and Asia-Pacific, which gave him the international corporate background for Demon. When not writing or reading, he likes odd movies, challenging theater, and skiing.