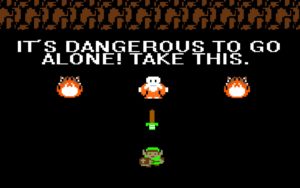 The old man isn't whistling dixie. It is dangerous to go alone. When protagonists quest alone that's when a spooky crack-addict fox tries to pull your head off in the labyrinth, or a weeping angel tries to send you back in time, or worse….you may be forced to hunt for a second, slightly smaller shrubbery so the Knights Who Say Ni can have that cool two level effect. But in order to avoid spending the entire second act searching for a bush, your character can't be like Link. Your character needs more than a sword for their adventure. (unless the sword being proffered is Nightblood. That would be sweet!) Your character needs friends that are willing to accompany them.
I don't think it's enough just to have a friend cheering the hero/heroine on while they alone vanquish foes. It's also not enough for the friends to simply guard the hero/heroine's back. Shared burden, means shared risk and shared trauma. If they fight at the hero/heroine's back, and come out unscathed it's not going to be genuine. Sure, depending on the character they may fare better or worse than the hero/heroine but there is still going to be a mental and/or physical toll. That toll, and the recovery from, is what brings the hero/heroine and their companions closer together which in turn makes the journey worthwhile to many readers.
Now, there's two different ways this can happen and both ironically are found in The Fellowship of the Ring. The first way is Frodo's Band of Brothers. Frodo, Merry, Pippin, and Sam were pretty tight when circumstances forced Frodo to leave the Shire. But rather then let Frodo go on that very long walk by himself, they join him, sharing the adventure and the many dangers. Even when those dangers separate the hobbits, the danger they did survive together, as well as the dangers they faced apart in pursuit of their common goal, didn't harm their friendship. Heck, Frodo would have been a goner several times over if it weren't for Sam. The nice thing about this route is that there's a baseline relationship to help or hinder all of them along the way. Unlike the other route which is…
The Fellowship — specifically, the non-hobbit members. None of them knew Frodo and company before the Council of Elrond and vice versa. They didn't know if any of them were traitors, or would succumb to the power of the ring, or would abandon the group. They had to take a chance to serve the greater good and at least try to save the world. It's not much to base a fledgling relationship on and as expected those fledgling relationships were tried. Some flourished, most in fact, and some died (but we all saw that last one coming, right?). My point being, that they went from zero to FUBAR in a very short time and that amount of strain can only make or break a relationship.
Both of these can be really tricky to pull off but the end result, an unbreakable bond, is usually worth it.