Well friends, we've reached that time. It's been a great month, but we've hit the last day of this topic and with April the Fictorians will bring you a whole new angle on which to explore. All throughout March our members and guest posters have explored the friendships they loved in fiction, the friendships they add to their own writing and how real life friends have helped them in their careers. On my previous post I departed from the model to address the friends of writers directly, but now I will return to the theme of the month and provide an example of each.
Like many people, my first *real* fantasy trilogy was The Lord of the Rings. I was maybe 10 or 11 when I read it, and I was very struck by the many strong relationships in that story: Frodo and Sam, Gimli and Legolas, Gandalf and Aragorn. Well trodden ground for most readers though, so for my fiction example I'd like to highlight a friendship from the *second* fantasy I read, which was The Chronicles of Thomas Covenant the Unbeliever. No, I'm not going to discuss that series' extremely problematic main character (to me, anyway) but rather the Giants.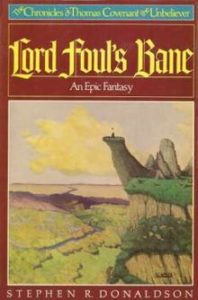 The Giants in the Thomas Covenant books are just such amazing friends to the people of the Land, and I found them as a group to be both inspiring and heartbreaking. Long lived and incredibly powerful, once stranded from their home they could have easily conquered the native people but instead they entered into a millennia of friendship and service with them. They built Revelstone, joined the Lords in their war against Despair and embraced the concept of service to the land itself. Their ultimate fate is incredibly tragic, yet their enduring legacy for me as a reader is one of positivity and optimism. The wonderfully named Saltheart Foamfollower said "Joy is in the ears that hear!", capturing the spirit that embodied these friends of the Land so well.
In my own fiction, I wanted to explore the concepts of friendship on both sides of the story equation. My current project has a male and two females as the primary protagonists, all of whom end up friends but with no romantic entanglements added. As a trio they learn to trust each other and provide support, even as they endure some remarkable hardships. I also wanted my villains to have friends too though, and that dynamic has been a fun one to explore. The best antagonists for me are ones who have some redeeming qualities, and seeing my primary bad guy still show loyalty and even compassion I think makes him all the more interesting.
It would be impossible for me to provide all the examples of how my friends in real life have helped me. It is through friends that I first found the Superstars Writing Seminars, which led me to the Fictorians. Friends were there to encourage me through my first Nanowrimo and my first story submissions. Friends who helped me through rejections, revisions and beta reading.
Without my friends I'd still be that guy who had a novel in his head but that was it. Thanks to my friends I've written three novels, a novella and a whole bunch of short stories. Each person who offered support or advice has walked me a little farther down this crazy writing path I'm on. I may be by myself most of the time the fingers are hitting the keyboard, but I've never walked alone. I don't suspect that will change anytime soon, and I hope I can be as good a friend to the writers I know as they have been to me.
Thanks for taking this journey with me this March. See you next month!