So…when someone asks you what your "special sauce" is it's hard to know exactly what to say. Do they want my katsu sauce recipe? Do they want the password to the secret underground culinary fight club? Are they coming on to me? Who knows.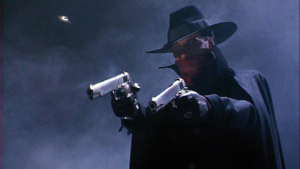 I bet he knows.
But if the question is what makes my stories sound like me…well that's a difficult question to answer. I'd like to think that my nerdy and off the wall humor is my signature thing but not all of my stories are humorous — my poetry definitely isn't. Plus I'm not the only author who tells those kinds of jokes so I still couldn't claim that it's mine and only mine.
So what is my signature bit? Well…the best way I can think to describe it is to say that it's like Doctor Who. Every Doctor has their own thing. Sometimes it's as simple as a signature outfit, sometimes it's a catchphrase like allonsy or Geronimo, and sometimes it's jokes about eyebrows that can be used as bottle openers. While other times it's a story line that makes you think. It's that last one that I think if anything is my "special sauce" it's that. When I write my stories, whether it's a novel or a short story, I try to put in something that's going to make the reader think and ask themselves if they would have done the same in that situation…followed by a pithy break the tension. Just kidding. I do it two pages later…and only on Saturday nights.
But of course this is all conjecture since only Mr. Shooty McBangbang knows what the question really is.