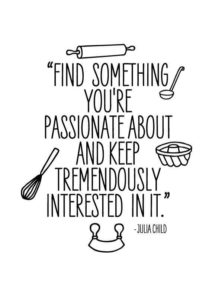 The posts this month have been amazing. Not only did we explore great works and what made them great, but described aspects of our own writing, and ways to improve our personal secret sauce.
Please browse through the month and read the posts from the Fictorians explaining our special sauce, our unique voices, and how we developed as writers. These excellent posts offer great insights into the Fictorians and the process of developing as writers.
As the famous Julia Childs once said, "No one is born a great cook. One learns by doing!"
In addition to those great posts, I'll point out a few of the other highlights this month:
Research Until Your Fingers Bleed by Sean Golden
Hiding Your Secret Sauce by Guy Anthony De Marco
Using Voice to Set Yourself Apart by Kristin Luna
Adding Realism – Military SF by Kevin Ikenberry
Jayne Barnard and Adria Laycraft – Creating Successful Author – Editor Relationships by Ace Jordyn
Wisdom in abundance – The Characters of Daniel Abraham by Greg Little
So keep working on your own secret sauce, and feel free to update your recipe books with some of the wisdom shared this month.
Keep writing!