A lot of authors and publishing insiders talk about the importance of going to conventions — which is great. It's a wonderful place to meet agents, editors, to sell your books directly to fans, and a lot of other great things. However, there's another resource that tends to get overlooked. Tradeshows.
Tradeshows aren't just for air-conditioner salesmen in bad suits, and overpriced cars and speed boats. There are multiple shows across the country throughout the year for the book business too. Except instead of it being a show for salesmen or the average reader, these shows are just for bookstore owners, event coordinators, book buyers, and librarians — the very people you need to know to make sure your book gets on the shelves.
These shows range in size. The biggest is the BEA (Book Expo America) but giant shows are pretty much out of reach of indies and hybrid authors like myself. So I'm going to focus on the smaller regional shows like the PNBA (Pacific Northwest Booksellers Association) fall tradeshow.
As you can imagine, in the Pacific Northwest there are a lot of indie bookstores and libraries, which is why this is such a great show. It's usually two or three days in early October. The night before the show opens there's a mixer for the attendees that's also a massive book signing. There's usually between fifteen to twenty authors and the books being promoted run the full gambit. There's cookbooks, photography books, outdoor guides, YA, kids picture books, middle-grade novels, adult novels…pretty much everything. During the actual show there's classes for the booksellers and librarians, and a sales floor for publishers and sidelines vendors, but the big attraction are the meals. During the show there's an author breakfast, author lunch, and author dinner. At each of these meals there's between five to eight authors and each one gets about fifteen minutes to talk about their new release while the booksellers and librarians eat a catered meal. At the end of the meal all of the booksellers and librarians get a gift bag with the books that were plugged — which is the show's real draw.
This is the sort of show that attendees don't fly to, they drive cross-country to it so they can fill their car with all the free books. If you think your Worldcon haul from the free table was impressive just wait till you see what is given away at book tradeshows. The last one I went to I was only able to be there one day because we were short handed at the shop, but just in that one day I came home with three large cloth shopping bags (the bags themselves were gifts from the publishers) full of ARCs (advance reader copies) and first editions! If I'd stayed through the rest of the show the book haul would have been three times that!
Herein lies the tricky part. For the regional shows like this there is an application process for indie authors to come promo their books, either at the big meals or as a vendor on the sales floor, but you can't sell your newest book to the attendees. You have to give them away. All of the attendees come with the expectation that all of the books are free and anytime the booth staff say otherwise, it's met with sneers. I realize that this means these shows are out of the realm of possibility for a lot of indie authors. I can't afford to give away 500+ copies of my book. But if you can afford it, and your pitch is on point, you can make back that investment. You're pitching directly to people who will stock, and hand sell, and promote your book to readers that may not hear about you and your work any other way.
So when you're planning what conventions you're going to go to, be sure to ask yourself if it's better to spend $1,000 on hotel, airfare, and a badge for a big convention, or if it's better to spend that on an appearance at a regional tradeshow.
Speaking of books, there's a fantastic deal going on at StoryBundle. Their annual Epic Fantasy Bundle is currently available and this year's selection has some great titles by R.A. Salvatore, Brandon Sanderson, Michael Stackpole, and three Fictorians! Gregory Little, Scott Eder, and myself all have novels in this bundle.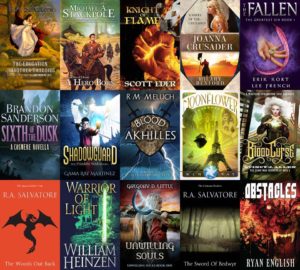 For $5.00 you get four DRM-free ebooks and for $15.00 you get all fifteen books! That's a dollar a book! Plus, at checkout you have the option of donating 10% of your money to The Challenger Foundation, which helps fund science programs in schools across the country. Yay science! It's only available until September 21st! You can buy it and even find out more about each of these titles here. You don't want to miss out on this deal. It's a lot of quality fiction for a small price!