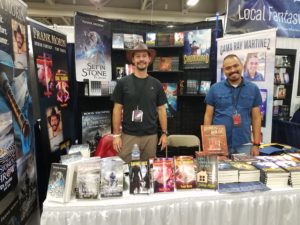 Earlier this month, I talked about SLC comicon, which I have attended multiple times. In the past, I attended as one of the authors participating with the Bard's Tower. Those experiences were awesome. I not only learned a ton about how to run a successful vendor booth, but I loved meeting and networking with all the other authors and cross-selling each others' books.
I just returned from yet another SLC comicon, and for the first time I was an official vendor. I shared a booth with author and friend, Gama Ray Martinez. (check out his books – they're great).
I had actually planned to just join the Bard's Tower group again, but they're so popular, they had too many authors already signed up. Gama mentioned that he was interested in going as a vendor, and it made a ton of sense to split the cost of a 10×10 booth, share the space, and sell our books there.
How did it go?
Extremely well. We both sold a lot of books, covered our booth costs, and had a great time. I can't say I made a profit, but I came closer than ever before. Besides the direct booth expenses, I have to factor in the cost of the books, hotels for myself and my family (Yes, I brought my own minions to help out), gas, food, etc.
What worked well?
There are several benefits to sharing a booth. Besides the obvious benefit of splitting the cost, you've got someone to chat with, cross-sell with, and brainstorm the best way to make the booth work. We got more space on the table than we would have if we joined a larger group. Additionally, we were both panelists at the convention, and it was easy for one of us to cover the booth while the other one headed out to a panel. Or, if we needed a restroom or food break, we didn't have to leave the booth unattended. All that stress was gone.
And of course the best benefit is getting to meet so many people. Here are a few who posed with one of my books. The Assassins always choose Memory Hunter because that series is described as Mission Impossible meets Assassin's Creed. Fun stuff.
What could have been a problem?
Gama and I didn't have any major issues, but it's important to recognize that there are potential hazards with sharing a booth like we did. Make sure you're a good fit with your partner and that the agreement is clear.
Money. How to collect and track sales? We could have each handled our sales separately, but what if someone wanted to buy books from both of us? This actually happened more than once. We decided that we would use Gama's Square account. That way only one of us had to apply for a Utah state tax license and we could sell all of our books through the same account. That meant all sales had to be tracked, both cash and credit. Gama will pay the tax and send me my net profit. I have access to the account, so there's no question of trustworthiness, not that I would ever doubt Gama, but this way there's no chance for the problem to come up.
Stealing each other's sales. Our books target similar audiences, so we could have run into issues with each of us trying to sell over the other and in effect stealing the other's sales. We didn't have that problem because we both acted like professionals. We did have an instance where one of my over-eager kids interrupted Gama's pitch to pitch one of my books too, but we discussed that and made sure everyone understood the importance of giving each of us the necessary space to work. We actually ended up cross-selling each other's books quite a bit. The goal is always to find the book that best fits the reader's tastes. We both made sales, and readers are happy. They'll buy again.
There are certainly other potential issues, like personality conflicts, issues with sharing the table space equally, etc, but we didn't run into those. Most potential issues can be resolved with open communication and bilateral respect, but it's important to consider them when considering a vendor partner.
Will I share a booth again?
Absolutely. Gama and I are already discussing next year's SLC comicon. I might do something similar at other cons, although I'm still very happy to participate with Bard's Tower again if a particular situation would work out better that way. Be flexible, and there are ways to work the conventions as a vendor without going broke.
[soliloquy id="14031″]