I interviewed Ken Scholes to close out our month on writing series. He gave some amazing insight on his process and some helpful tips. Enjoy! 
I hope all of our readers are familiar with you and your work, but just in case can you tell us a little about yourself and your series, The Psalms of Isaak?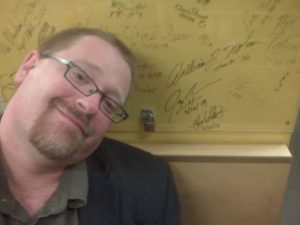 Sure. I'm Ken Scholes. I wear lots of hats – dad, writer, musician, civil servant. My origin story involves trailers in the forest and fundamentalist revival services in the hills. My short stories started coming out in 2000 and my first novel came out in 2009. At this point, I'm at around fifty short stories and five novels out in the world. The five books comprise my series, The Psalms of Isaak.
Typically you write short stories. How did you prepare mentally to make the transition from writing short stories to writing not only a novel, but a five book series?
I really didn't prepare at all mentally. I resisted anything longer than 10k for as long as I could…years even…and finally a dare put my feet to the path when one of my short stories did well in Realms of Fantasy. I took the dare and jumped in with both feet but I was convinced Lamentation would fail by the time I hit chapter five. I thought it might be a trilogy when I first started but then I saw there was more to tell once I finished the first draft. I decided I would stop at five and force the story to fit because I felt we were all tired of never-ending series. And even with my entire series told within ten years of starting the long waits between Antiphon, Requiem and Hymn really slowed the momentum.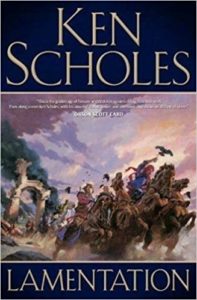 How important is it to have the same beta readers throughout the entire series?
I suspect it is nice if you can have it but it's not easy to get someone along for that length of ride. And you pick up extra betas as you go if you have books coming out. Having the same editor and copy-editor, I think, is more important.
Over the course of the series, I had two copy editors and one editor. My copy editor was the same from Canticle forward. But my beta readers shifted around a bit. I'm not sure I had input from any of the same betas in the last book as I did in the first. My beta strategy is to aim wide with complete forgiveness if a person has no time. I don't do reminders. I just take the feedback I get and make the changes that make sense to me.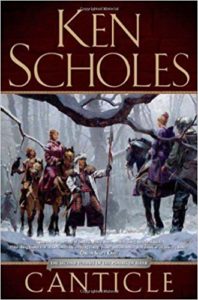 One of the things I love about The Psalms of Isaak is how your characters steadily grow and change over the course of the series. How did you pace that growth so that no one grew too quickly or too slowly?
Thank you. I really didn't do any pacing. But I was growing as they were growing, as their story unfolded, and I suspect we all just followed the path of change in keeping with the events transpiring around us. I have that strange origin story that has given me a broad range of life experiences and I tend to write those experiences into my fiction both consciously and unconsciously. So the various directions each of the characters were pulled just felt true to who they were and to their lives and circumstances.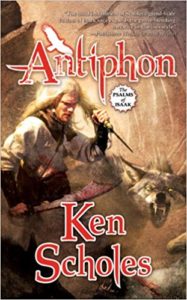 You and I have talked before about building spin-off potential into a novel and into a series. For the sake of our readers, tell us how you did that? Was it intentional or a happy accident that you realized after you wrote it?
Sometimes it was intentional and sometimes a happy accident. The accidents are found usually during revision or copy proofing. Little references to the world that can be expanded upon. A character that seems awfully interesting for just the few scenes they have. A pistol buried in the forest. But the intended – references to battles, people, events, vessels – are woven into the narrative against the day that there's more demand for stories in this world. I have several spin offs buried in the Psalms of Isaak.
It's a great way to expand story without expanding the current series or book. Of course, the trick is keeping track of them all.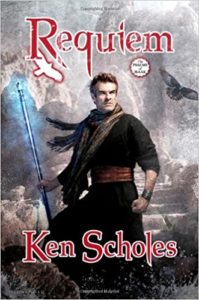 What do you say to readers who want a particular spin-off story that you either aren't able to write right now (for whatever reason) or don't feel inspired to write at this point in time?
Well, it doesn't happen very often. But I nod and smile and say I'd love to write that at some point if everything else lines up.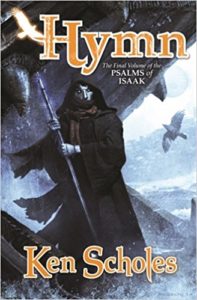 Thanks for taking the time to answer these, Ken! You can find out more about Ken and what he's up to at his website.