Anyone ever read Terry Pratchett and his Silver Horde? A sketchy band of octogenarian fighters who, despite their advancing years, still get out for the occasional job. Just to keep the blood flowing. A young man asks one of their members how they can still fight. His response boils down to this, "Be somewhere else when the sword gets there."
These guys have enough fighting experience that they know exactly what they're opponents are going to do. Ever.y Single. Time. So it's easy for their arthritic bodies to be out of the way just in time to avoid being stabbed.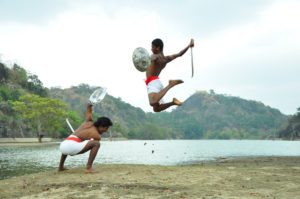 Think about your life. Aren't there things that always happen? Every. Single. Time?
For instance, it never fails that just as soon as I get my writing grove on, and I'm either busting out a rough draft, or plotting a series or editing a final manuscript, my day job decides to get greedy and they slap extra hours on me. This happens exactly two days after I've made a grand plan for finishing my latest book and am ready to jump in with both feet.
Of course there are the holidays. Sure, it's conceivable that I could get some writing done in the seven weeks between Thanksgiving and New Years. I have days off, after all. My family couldn't possibly fill all of that time, could they?
Uh, yes, they can. And then some. It's all great—the food, the fun, the family and friends, the running about and admiring the snow as I tell my husband to go shovel. It's a beautiful time of the year. Beautiful, but completely unproductive.
Oh, and July…don't even get me started about July. Wait, too late. Between trips to the local Shakespeare Festival, one of the largest parades in the nation, rodeos, sprinklers, the fourth of July, the local holidays, fireworks, swimming, hiking, family reunions and then recovering from all of that, nothing gets done. Somehow I end up farther behind than when I started. Gotta love the summer.
These are just a few of my life's tells. If these things are coming up, then I should know that I'm screwed. I should, but more often than not, I forget. My inner optimist overpowers my ornery realist and decides that I can make it work this time. I can write the rest of my novel in July. I can sneak it in between the reunion and the Shakespeare Festival. Or between plays at the Festival. Or on the fourth, when surly no one will want to do anything.
What I need to do—and have done on occasion—is change my tactics. Forget making novel progress. Instead, I've found that these are good times to branch out, or finish little projects I've been putting off in the name of getting my next novel out.
Projects like researching a new marketing scheme, or reading a couple of books in my genre so I can give my opinion on them to my newsletter victims, or picking up my disaster, er, office, read a book on craft, or browse that non-fiction research book I've been ignoring, or plan a random presentation for a conference…
So instead of getting sliced and diced, depending on the severity of the interruption, be ready to move. Be prepared with as many contingency plans as you can. If your July blows up, like mine does, don't plan to have a book finished in August. Go with either June or September. If your kids tend to break out in the stomach flu every November, be ready to juggle things so that you're not losing ground. Just change ground and start digging there. Because life doesn't stand still so you can write. It never has and it never will, and if it does, you've probably consumed too much of something.