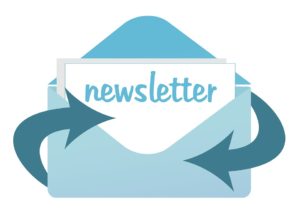 I have a friend who writes sweet romance books. She releases often and makes quite a bit of money. I asked her where she felt she gets her biggest boost from. She didn't even hesitate when she told me that her newsletter sells more books than anything else she does. Especially new releases.
A lot of people roll their eyes when they see the "Sign up for my Newsletter" box pop up on a website, but I have to tell you, that as of right now, a newsletter is a great way to connect with people.
There are a few distinct camps when it comes to newsletters.
The first are those that feel that newsletters should be few and far between. Only put them out when you have something important going on, like a new release or a sale.
The second are those that want a little more. Perhaps updates on current projects (tantalize those readers) and other exciting announcements. This camp doesn't mind regular emails. Maybe once a month.
The third are those that want to know everything about the author. They want to know about their kids, their cats, their frustrations, their triumphs…everything and anything. These people are good with emails once every other or even every week.
None of these is wrong.
In truth, you should pick the one that's best for you. Do you hate putting out newsletters? Does it stress you out? Don't feel like you have much to say? Then do the first. If you like to engage your readers a little more, go for the second. If you love people and want to connect more personally, go for the third.
One thing that I appreciate is when I sign up for a newsletter, that the author or company tells me how often I'm likely to hear from them. That sets up the expectation in my mind, and I'm totally fine when my email gets hit once a week, or once a month, or once every three months.
Personally, I'm between two and three. I don't have any children or pets, so I can't regale people with tales of my mothering woes, pet antics or honey-covered kitchen floors. But what I do have is a nerdy husband who thinks he's hilarious. So he has his own little spot at the bottom of my newsletter where I usually post some stupid meme he's sent me that he thinks is funny. Sometimes he's right, sometimes he's wrong. But it's always there.
I also include an update about what I'm working on or perhaps an announcement. If we've been on vacation I usually share some pictures. There's a section where I generally share a giveaway I'm involved in or someone else's book (a book that I think my readers will like). And then I have a permanent call for people to join my review team. And that's it.
I send my newsletter out every two weeks. Once in a while that changes, but not often.
The biggest connections I've made are when I ask a question of my readers. What fandom do they love and why? What are they grateful for that day? Where would they love to travel? Things like that. Sometimes I get one answer, other times I get a lot more.
I attended a class on newsletters last year, and the presenter asked, "If your favorite actor/singer/famous person sent a newsletter of what they did that week, would you read it?"
Uh, yeah. I might. I mean, what is Harrison Ford doing today?
So think of yourself not as a bother, but as an addition to people's lives. Don't waste their time, but give them a reason to make some time for you. Even if it's just a few minutes.