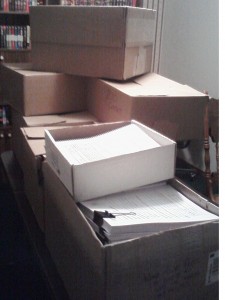 I recently came across an online discussion between a couple of friends of mine and an established science fiction writer. The conversation lasted several days and became a little heated at times-at least, so it appeared to me. What were they talking about? Okay, seriously, I'll give you exactly one guess.
You don't need one, you say? Not surprising, seeing as the publishing world seems entirely preoccupied these days with one subject and one subject only.
Indeed, the discussion revolved around the debate between self-publishing and traditional publishing. Let me state clearly that I am not trying to present a comprehensive argument on that subject through this blog post. I would prefer to focus in on one aspect of this debate, which is gatekeepers, and whether or not we have a need for them.
What do I mean by gatekeepers? Let me explain. In the traditional publishing model, writers send their work to agents and publishers, who in turn evaluate the suitability of said manuscripts and judge whether or not they are viable for publication. This, in essence, is gatekeeping. Not everyone can get their books published, because there is a system in place to filter out the books that are worthwhile from the mountains of books which are not. In the publishing world, this mountain of dreck is known as "slush."
But all of that seems to be changing, and self-publishers are increasingly of the opinion that gatekeepers of any stripe are obsolete. In the modern world of ebooks, in which the Amazon juggernaut will allow anyone to publish anything, regardless of quality or questions of legality (a post for another day, to be sure), there is no one manning the gate. In this cutthroat world, the burden of literary filtration is more and more being placed on the backs of readers.
This is, of course, both a blessing and a curse. The reading market now has more freedom to choose-and more freedom must be a good thing, no? Some readers are well-suited for this brand of freedom, though I would suggest they are a minority. Instead of going to the bookstore and choosing one of the several dozen titles on the bookrack in front of them, readers now must select from literally thousands of books, and they must be increasingly wary and educated about how they go about this process of selection.
There are great resources available to help readers make informed, wise decisions-again, a blog post for another time. But my question is this: should this responsibility fall to the reader at all, and does the average reader want it?
I, for one, would like someone to man the gate. My opinion is influenced by the fact that I am currently in the middle of filtering my way through a massive slushpile of my own. Part of my job this summer is to go through the ten huge boxes of books piled up in my living room, distilling them into a shortlist of ten viable manuscripts (pictured above). It's hard work, and doing it right requires weeks of intense labor and concentration.
Do I think the average reader values the notion of having someone take on the slushpile for them? Yes. Yes, I do, though I don't know what form such gatekeeping may take in the future.
Discuss amongst yourselves.