A Guest Post by Monique Bucheger
The theme of the Fictorian blog this month is "Moments Of Inspiration In Life: Our experiences as people influences our writing." Which made me ponder: Why do I write what I write? And why do I keep doing it? The answer comes from my individual journey through life.
When I was 12, two of my friends from school were physically abused at home by their parents. I knew they needed help, but since I was also a kid, I didn't know how to help them. That feeling of helplessness stuck with me for many years—so I decided to do something about it.
Soon after we married, my husband and I applied to be foster parents and were licensed. Through the years we have cared for over 100 foster kids as well as our own 12 children. The feeling of helplessness lessened, though the guilt for not being able to help my abused friends never went away.
When I was pregnant with our youngest child, I started writing again—something I did all the time as a teen—but had put on hold to raise our family. I had intended to write one book about a quirky, spunky 12-year-old girl named Ginnie West to keep a promise to my high school creative writing teacher.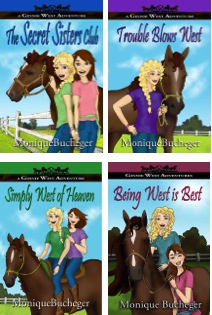 Instead, it has turned into a four book middle grade series with at least three more books to go.
The series features half-orphaned Ginnie West and her best friend, Tillie. Ginnie's mom died in an accident when Ginnie was three. Tillie's dad abandoned his family six years before the start of book one (The Secret Sisters Club) after abusing Tillie and her mom.
Tillie's parents have been divorced for four years. Now, Ginnie and Tillie want to be sisters—for very different reasons—and since Ginnie's dad and Tillie's mom aren't dating other people, the girls decide to nudge them toward each other.
Mostly the series is about friendship, BFFs, horses, finding out who you are, changing what you don't like, and belonging—important things to kids aged 8-14, as well as everyone else.
My Ginnie West Adventure series also deals with surviving the ripples of child abuse, defining who you are, being okay with who you are, accepting other people within safe parameters, going outside your comfort zone to do the right things and not defining yourself by other people's weaknesses—among many other things.
It is also a fun, funny, wholesome series set on a modern day farm where kids "candle" eggs they gather and milk ornery goats. Where family is defined by people you choose to associate with as well as by those you are born to. Where kids concoct schemes that often backfire—resulting in both humorous and not-so-funny opportunities to solve problems and mature in unexpected ways.
In short, I write contemporary realistic fiction with humor. Helping kids (and adults) navigate the murky waters of pre-adolescence in what I hope is an empowering way.
Kids may not be able to change certain realities in their world but I want them to know they get to choose how they think about themselves and and their reality. If there is something they don't like, they can make changes. If there is something they do like—I want them to embrace their uniqueness.
Middle grade is the time when kids start realizing that the world (and themselves) are full of possibilities. It is also when peer pressure begins—in both positive and negative ways. Kids hear and embrace certain messages about themselves—and they believe them.
This can work equally as a benefit as well as a detriment. When kids live in a safe home and have good self images, they flourish.  When life experiences haven't been so kind, kids believe the worst about themselves or other peoples' bad opinions of them.
Because of my background as a foster parent, overcoming child abuse and other hardships are  themes in my books. Even if a person wasn't or isn't a victim of child abuse, we all know people who were or are.
Bruises on the body heal and disappear, bruises on the soul linger and color lives in unexpected ways—often resulting in poor choices that complicate life unnecessarily.
Child abuse and its effects are not something people want to talk about, but something way too many people live with or were wounded by, and something that affects how people make decisions for the rest of their lives. When you are the victim of child abuse, you want to know why—and you want it to stop.
Sometimes I wonder if the time spent writing my books would be better used doing something else. Then I hear from someone who has read one or more of my books and lets me know that the book or story line helped them deal with something they were struggling with in their life.
Before I was published, a lady I'll call Lily, messaged me one day and told me that she had read all of my books on our critique site. She had grown up in an extremely abusive home—her mother locked her and her sister in closets for days on end-not feeding them, beating them, allowing boyfriends to have their way with her daughters.
In short, Lily grew up with horrific, vile, damaging experiences. She told me that she couldn't believe that any family could be so loving as the West family, but it was healing to her that such a family could exist. She told me that reading about how the West family helped kids like her comforted the abused little girl inside her—and gave her hope for other kids like her.
Lily's story encouraged me to pursue publication—not an easy journey as people familiar with the process can attest. However, since my series has been published, I have heard from many other adults who lived with an abusive parent who have found peace and strength in my series.
Adults who weren't abused (many teachers and parents) have told me they welcome an opportunity to read an age appropriate series with their kids so they can have open discussions that deal with the ripples of child abuse (poor self image, wrongly thinking they deserve to be abused, feeling powerless to change things).
I have been pleasantly surprised to find my books resonate with kids and adults alike—one of my biggest fans is a 72-year old man. Last year several tween and teenage girls rushed over to my table at a book signing, wanting my newest release, Being West Is Best. They were fully invested in Ginnie and Tillie, and wanted to find out what happened next.
My main character, Ginnie, is a spunky, courageous girl with a strong sense of loyalty and adventure. She loves trying new things and while she doesn't often outright break "the rules"—there are often piles of twisted and bent rules in her wake.
Her BFF, Tillie, is more timid—but no doormat. In each successive book, Tillie realizes that she can overcome her rough beginnings and that she is  worthy of being treated well. Together, they give each other strength and permission to explore this thing called life and make their own definitions of who they are.
Like Ginnie's great-uncle is fond of saying: "You may not be able to help the whole world, but you can do your part to help your corner of it."
Empowering kids and adults to overcome bad experiences and to find courage to redefine their world and how they view it—in effect to become superheroes in their own lives—is why I continue to write the Ginnie West series.
About the Author: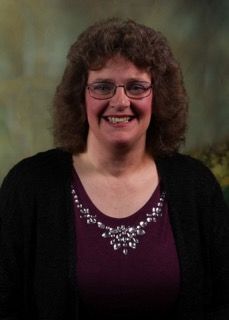 When Monique Bucheger isn't writing, you can find her playing taxi driver to one or more of her 12 children, plotting her next novel, scrapbooking, or being the "Mamarazzi" at any number of child-oriented events. Even though she realizes there will never be enough hours in any given day, Monique tries very hard to enjoy the journey that is her life. She is the author of the middle-grade Ginnie West Adventure series, a picture book titled "Popcorn," and in the process of releasing two new series in the near future-a family drama and a middle-grade fantasy.