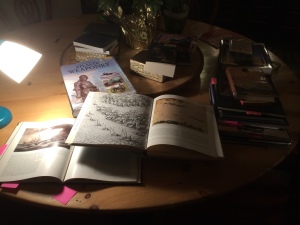 Louis L'Amour talked to every "old timer" he could find so that he could accurately portray how folks used to live in the old west. Nowadays most writers just turn to the Internet.
There are great, insightful websites that offer a virtual experience and allow us to get into the minds of our characters. For example, I was writing about a space station built on the planet Mercury. Using computer software I was able to visit Mercury and see what Earth looked like from her surface. In the right rotation, Earth and her moon looked like two bright stars. This detail added a nice level of authenticity to my story.
A couple years ago, I was researching my family history and came across a gentleman that I may or may not be related to (I still can't figure that out) but his story is a great one. Commodore Joshua Barney fought in the American Revolution and was one of the first to serve in the continental navy.
I decided to write his amazing coming of age story (and am nearly complete with this endeavor). Though at the time, I hadn't a clue about ships and sailing in the 18th century. So I turned to the Internet.
Wikipedia is alright for double checking a reference, not hard fast research. But I perused its site first to get some direction.
YouTube offered some interesting videos on ship replicas from that era and I was able to glean some insights into sailing such a vessel. But even the replicas have been modified with gas engines and motorized rudders, so how authentic could that be? Most of the cabins have also been modified to accommodate the 18th century luxuries we now consider necessities like running water and flushable toilets.
I gathered twenty or so books from Amazon on sailing in the 18th century and other period pieces. The first thing I noticed is that folks back then didn't talk like we do today. Keeping to the historic dialect would probably be more authentic, but I would most likely alienate my middle-grade readers in the process. So I drifted from authenticity in that area and hoped to make up for it in my research of the sailor life: food, sleep, hygiene, and so on.
I went to an antique mall and purchased a few model ships from the 18th century so I could get a feel for their look, dimensions, and layouts. This helped me gain a better prospective than just looking at photographs.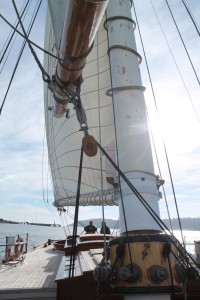 After reading the Amazon books and playing with my model ships, my head was swimming in information, but I really had no way of knowing what was worthwhile and what was rubbish. So I booked a sailing expedition on an 18th century tall ship replica (now referred to as a yacht). I was able to feel the experience, see it, smell it, and taste it. This made it easier to convey sailing in my writing. But I still lacked some aspects of the ship life.
My next research adventure came by surprise. I was visiting Collette Black's Desolation book signing in Half Priced Books and wondered if they had anything on sailing. I was able to browse dozens of helpful books and elect the ones that were most specific to my project, at a great price. That is something you really can't do on Amazon. I even found a book that discussed trekking through the Alps during summer in the late 1800s (something that my protagonist did at the age of fifteen in the late 1700s).
David Farland said that I needed to visit the Alps to convey the experience like I had with sailing. I'd love to, and don't doubt that my writing that particular chapter would be much more convincing and insightful if I did, but I'm going to try writing the chapter from my research first and we'll see how it goes.
So sure, researching has gotten much easier with the Internet, but researching it old school is still necessary to add levels of depth and authenticity that virtual experience has yet to duplicate. My experience on Mercury would no doubt be a drop in the bucket to what I might actually experience if I travelled to the planet (and lived to tell about it). Bottom line, there isn't any short cuts. Even a fantasy novel on a made-up world still requires huge amounts of research to capture the reader. Good research facilitates better writing.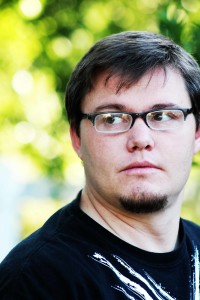 I live in Arizona with my family, wife and five kids and a little dog. I write fiction, thrillers and soft sci-fi with a little short horror on the side. I've got an MBA and work in finance for a biotechnology firm.I volunteer with the Boy Scouts, play and write music, and enjoy everything outdoors. I'm also a novice photographer.You can visit my author website at
www.jacekillan.com
, and you can read some of my works by visiting my
Wattpad page
.