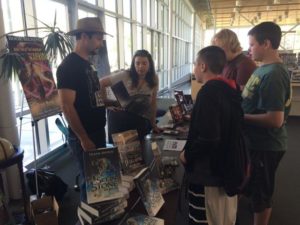 For authors who write middle grad or YA books, it seems like a no-brainer to include school visits in our plan to build our fan bases, right?
Maybe.
Like a lot of things, it depends on your personality, your books, and how you approach those visits. I personally love visiting schools, even though I haven't sold lots of books as a direct result of most of those visits. Still, I consider visiting schools, teaching kids about writing, talking about stories, and mentoring young writers well worth my time.
Through the process, I've learned a few things.
When you first approach schools, don't be surprised if they're wary. These days a lot of indie authors try to get school visits, but few seem interested in helping busy teachers, administrators, and librarians accomplish their curriculum objectives. And they don't have time to babysit an author coming only to pitch their book.
When you do get school visits, many schools are happy to set you up in the library. Don't be surprised if you don't have tons of visitors, unless you schedule with teachers in advance.
Get to know the librarians. Promise them a free book. They love free books, and I always give them one every time I visit. Ask them to put you in touch with English teachers or other teachers who might be interested in meeting with you.
Contact those teachers and ask them what they need, or how you can support and assist their current plans.
Note – don't be surprised if quite a few teachers scoff at the idea of some indie hack coming into their classrooms and teaching their students anything they couldn't teach themselves. Some teachers are very open and friendly, but some are quite snobby, even though they usually have no idea how to actually write a publishable story. I've had to work through that in initial visits where I prove I know what I'm talking about, students enjoy interacting with me, and I bring value. They're often much more eager to invite me back a second time.
Be friendly and smile a lot.
Offer to teach students about writing. I've spent entire days at local schools teaching students about writing and holding writing workshops with them. Students love it best when only a little formal instruction is given, followed by a hands-on exercise. I really enjoy building a story with students, and they usually love the opportunity to help create stories together.
Prepare a message or presentation that appeals to a wide audience beyond just your books. I'm working on a couple different presentations suitable for larger audiences that should make administrators a lot more eager to invite me to come speak to their schools.
Although it is possible to set up a big book signing event at the school, the more I learn, the more I think there are better ways. One well known author I know warned me that sometimes holding a big book signing can actually generate hostility from the school.
He pointed out that at least one teacher or administrator at almost every school fancies themselves an author, and they often feel resentment when they seen tons of students lining up to buy books.
So for a really big book signing, a great suggestion they gave me is to line up multiple school visits for the same area over a couple of days, and send all the kids home with a notice that you'll be holding a big book signing at a local bookstore or venue close to the schools. Then the kids and their parents can come on Saturday and buy your books.
I plan to test this approach soon, and I'm eager to see how it goes.
10. Finally, know your objectives. Make sure you're helping the school and bringing value to them. You'll get exposure, if not tons of sales at first, but over time, it really pays off.
I've been cultivating relationships with local schools for the past few years, and I have a strong local fan base, partially because of those efforts. Plus I've helped a lot of budding authors learn some things I wish I'd known at their age.