In this article, Hayden Trenholm, publisher of Bundoran Press, Canadian Publisher of Science Fiction, shares his personal journey in the book business. Whether publishing with small or large press or self-publishing, distribution is always a concern and Hayden candidly shares his experiences. Print or ebook sales, which is more lucrative? Hayden's comments may surprise or depress you.  Ace Jordyn

Personal Journeys in the Book Business by Hayden Trenholm
Selling books is hard; selling anything is hard but books are harder because it is the only product that stores can return for a full refund (or credit – though that only applies to big publishers). This practice started in the 1930s when publishers were looking for a way to kick start book sales after the war. The mass market paperback was relatively new and was designed to be printed cheap and distributed widely. To encourage book sellers – a notoriously conservative lot – to take the risk, the books could be returned for a credit against future sales.
This worked pretty well for publishers, who in those days mostly distributed their own books. They didn't actually have to give money back – they simply took a loss in the future, which as any economist will tell you, is a discounted loss.
It doesn't quite work that way anymore. As the world became more complex, sales processes became more specialized. Publishers outsourced their warehouses to distribution companies. Gradually those distribution companies developed their own salesforces (on top of the marketing departments of big publishers) and took over marketing for medium and small publishers.
And of course they took their cut of the sales – which would be okay if they also didn't charge fees for every transaction they undertake. There is a fee when they send the book to the store and another larger fee for when it comes back. And if the books stop moving, they charge you a fee for storing them and a different fee to dispose of them or return them.
Generally you are told you should budget 30% for returns, though the distributor assures you they will do everything possible to keep it below that. But what if they sell your books to the wrong stores – such as stores that don't sell a lot of science fiction, or stores who won't keep new or relatively unknown books on their shelves for more than a few weeks? Returns can quickly rise above 30% and, with all the associated fees, it is possible to actually lose money through distribution.
Which is what happened.
I could see that it was coming and I have thought of an alternative – two, in fact. One would be to find a new distributor.  There are several out there but getting them to take you on is not as simple as asking. You need to have a certain size back catalog, you need to publish a minimum number of titles each year, you need a certain size print run.
Requirements vary, of course, but obviously, the bigger the distributor (access to more stores, larger sales force, and so on), the stiffer the entry requirements. And returns are still a problem. Still, I'm looking into the possibilities.
Not all distribution companies are created equally and some are as hard to work with for storeowners as they are for publishers. Complex accounting processes and inefficient shipping practices can lead stores to refuse to work with certain distribution companies.
I've talked to a few book sellers about the problem and they either suggested a smaller, but reliable, mostly Canadian firm (there are several) or to do self-distribution. If authors can self-publish, why can't publishers self-distribute?
So, for at least the interim, that's what I'm going to do. I've created a catalog that includes all the backlist (and announces the titles of upcoming publications) and I've started sending it out.
My first experience was a good one. Last August at When Words Collide (which was a great success – we won an Aurora Award and had a successful triple book launch), I approached a couple of regular book sellers with the catalog. One took the catalog and the other took some books. So while supplies last, Calgary readers can buy Bundoran Books from the Sentry Box. Since then, the Yellowknife Book Cellar in the Northwest Territories and Pat Flewelling's traveling bookstore, MythHawker have bought into the system. Negotiations continue with several other bookstores.
The secret – deep discounts for the book sellers (more than the traditional 40%) and no returns for the publisher. Even with shipping costs I expect to make more money than I did with my big American distributor. And I certainly won't lose money. Obviously this approach is unlikely to work with the big chain bookstores and it definitely won't work on Amazon – but it might actually result in more books sold which will be good for both me and for the authors I publish.
E-books
Like most traditional publishers, I publish e-books of all the books I also publish by print. I've even published one stand-alone novella. Some have sold okay – mostly when both I and the author independently promote them – but none have been spectacular. One exception is my anthology, Blood and Water, which sold a lot of copies by being included in a book bundle with nine other Aurora-winning or nominated books.  Recently, another of Bundoran Press' books, Children of Arkadia by M.Darusha Wehm, did very well in another book bundle, this one sponsored by SFWA (the Science Fiction and Fantasy Writers of America). With two more book bundles in the works this year, change may be in the air.
Which is a good thing. I've done all the usual things to promote e-book (and print sales): Twitter, Facebook, (including ads), Goodreads, blogs, manipulating the Amazon algorithm, but the results have up to now been so-so. A few months ago, I signed up with an ebook distribution to spread our market beyond Amazon and KOBO. Initial results look good – a doubling or tripling of our monthly sales – but time will tell if that is sustainable.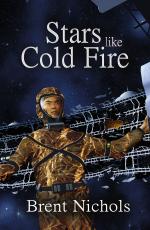 But it will have to be flashy to match what happened with Stars Like Cold Fire by Brent Nichols, which in its first two  weeks sold more units than all the other titles (except for the aforementioned Blood and Water) sold in the previous six months. It's not like it has become a best seller in its category (Space Opera) – although apparently that doesn't mean what you might think anyway– but it has continued to tick along very nicely and is still outselling every other title – which bodes well for the sequel that is coming out in August. Neither Brent nor I are likely to get rich – but you never know. Maybe a year from now, we'll be referring to Brent as the new Hugh Howie. And I'll have sold my company to Random House.
Speaking of e-books, the debate continues to rage over which is doing better – e-books or print books. Some would have you believe that  e-books are in decline and print books are on the rise and sales figures would suggest they are right. Total e-book sales have fallen since 2013, while print books have shown a modest but steady increase.
Others would point out that e-book weakness is largely because there wasn't a breakout YA novel in 2014 or 2015 – which shows how a single author like J.K.Rowling can move the market more than 10,000 other lesser selling authors. Pricing may also be a factor with traditional publishers raising e-book prices while the growing number of indie publishers have kept prices low. Still, the decline in sales of dedicated e-book readers like Kindle must be an area of concern.
And at the same time, the rise in print sales is almost entirely due to the recent fad of adult colouring books. That's right. Colouring books. Maybe I need to produce a book of colour-it-yourself space ships and alien landscapes.
My own view is that – publishing is a tough business and few people are going to make a decent living at it. Most people who make a living as a writer  start out being supported by family, friends, spouses, and lousy part-time jobs. Or if they live in a country that values the arts – by public arts granting agencies. For Canadians, things recently got a little better – but it's still a rough go. Here are the median individual incomes in Canada. If you are doing better than that as a writer – count yourself lucky.
Still, we persevere – both as writers and as publishers. After all what else can we do?
Yeah, I know  get a haircut and get a real job…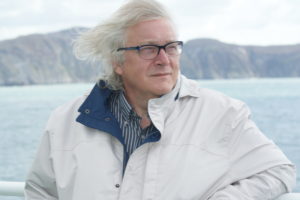 Hayden Trenholm is an award-winning playwright, novelist and short story writer. His short fiction has appeared in many magazines and anthologies and on CBC radio. His first novel, A Circle of Birds, won the 3-Day Novel Writing competition in 1993; it was recently translated and published in French. His trilogy, The Steele Chronicles, were each nominated for an Aurora Award. Stealing Home, the third book, was a finalist for the Sunburst Award. Hayden has won four Aurora Awards – twice for short fiction and twice for editing anthologies. He purchased Bundoran Press in 2012 and is its managing editor. He lives in Ottawa with his wife and fellow writer, Elizabeth Westbrook-Trenholm.