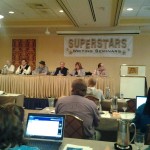 I recently returned from the 2012 Superstars Writing Seminar. The seminar in 2010 went well and I loved it, but to my surprise, I enjoyed this year's seminar even more. They have this thing down to a well-oiled machine. Brandon Sanderson gave one of the first presentations, talking about his Ten Rules of Writing Success. He asked me to qualify this list by saying, these are his current rules, but they change regularly.
1) Start thinking like a business person.
2) There is no substitution for practice. (Write!)
3) Network (i.e. the seminar)
4) Be proactive.
5) Work harder.
6) The result is what matters.
7) Don't waste time with writer's block.
8) Sometimes you have to be willing to suck until you get good. (He may have worded that better.)
9)Yes, luck happens, but you have to put yourself in the situations that let it happen
10)Just write. Do it.
I find it interesting that one word of advice is repeated, directly and indirectly, within this list multiple times–write! Butt in chair, fingers on keyboard.  I could go into detail on the list, but I think it speaks for itself and Brandon did it way better than I would like to even attempt.
But I will give a short summary of the seminar. We discussed the publishing process–indie and traditional, self-promotion, getting noticed, negotiating, slushpiles, contracts, copyright basics, agents, professionalism, inspiration, ergonomics of your work space, audience analysis, pitches and queries, YA market, IP rules and possibilities, productivity, balance, and so much more I can't list them all. James A. Owen, author of Here There Be Dragons and a multitude of other amazing works, finished his presentation by earning a standing ovation. We were so inspired, we couldn't stay in our seats.
Speakers included: Kevin J. Anderson, Rebecca Moesta, Brandon Sanderson, David Farland, Eric Flint, James A. Owen, Dean Wesley Smith, and our very own Moses Siregar III contributed on the self-publishing panel.
Between almost every presentation, we had ten to fifteen minute breaks where we talked with each other, the presenting authors, and had some time to move around. Whoever designed the structure, did a perfect job.   I'm not trying to sell this to anyone, there's no benefit to me, but when I attend a writing forum of any kind I like to make a report so other interested people can know about it. If I sound like a commercial, it's just because I was so sincerely amazed. I not only learned a lot and made great writing contacts, but I made lifelong friends.
Next year will probably be in Colorado, though I don't think that's set in stone. I suggest we all start saving our pennies and write it into our 2013 calendar.  It's the best writing business workshop anywhere.
Oh, and my next post will be an assessment of the 2012 Phoenix Comicon. What are some of the writing resources you've found valuable?