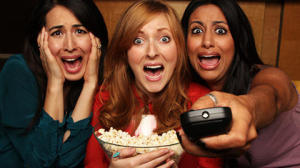 So, today's post was supposed to be about the terrors of planning the second launch party. Will people show up again? Will the hype of "I finally got a book out" turn into the flop of "been there, done that, who cares" from my friends and fans? But it turns out there are other concerns that take precedent, like where the %&+@# do I have my launch party and can I even make it happen?
I started out wondering if I should have the launch at the same place as last time, even though it's on the very outskirts of the city in which I live or if I should choose a more central location. I'm giving out candy, maybe I should have the launch near a candy store in the mall. Or maybe I should find an independent bookstore and coerce them into letting me in with a table for a couple of hours. Between making that choice and getting managers to return my calls, I still don't have a location. And then I start to wonder if I'm going to be able to make it happen at all.
These kinds of dilemmas relate to the fears that can really get to me as an author; do I even have the slightest clue what I'm doing? We post on social media, enjoy engaging with people at conventions, do some launches and book signings, win awards, but when it comes down to it, is any of this resulting in greater awareness and sales? And that's the real fear that often gnaws at my insides. Am I destined to go down in the silent flames of obscurity? This is the question we have to put behind us so we can find courage and move on.
So what if I don't have a launch party; my first book in the Mankind's Redemption series just won the Howey award. So what if sales aren't high; I'm  just getting started. So what if my fans are few; they're giving my book five-star reviews. We look at the bright side so the scary parts don't overwhelm us.  Making writing into a career can take a lot of time, a lot of effort, and a fair amount of time going unnoticed. But if we keep working, Kevin J. Anderson's popcorn method of success is bound to happen. The more kernels in the pan, the more opportunity for something to POP. So good luck to all and enjoy the popcorn.