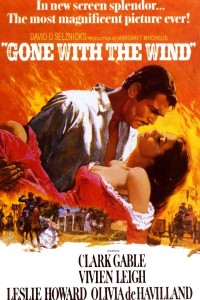 I remember watching Gone with the Wind when I was about five or six. My mother is a sucker for the classics. The plot and story were a bit over my head, but I remember getting the gist of what was happening by pestering my mom. I gathered that Scarlet O'hara was in love with Ashley, but for some reason the two didn't run off together and live happily ever after like the other shows I'd watch. In the Disney movies, there seemed to be a clear connection between the love interests and then the evil villain did everything he/she could to keep the two from being happy forever.
Gone with the Wind was different. The characters seemed to get in their own way of being happily-ever-after. I remember at that young age becoming upset with Scarlet that she wouldn't just express her feelings in a reasonable manner. That always seemed to work in the cartoons. Scenes like "Kiss the Girl" and "A Whole New World" were all about expression and contained in them try/fail cycles. Scarlet frustrated me because it seemed she just wanted to play games.
Like any conflict, a great love story will have try/fail cycles. Gone with the Wind impacted me as a child because it wasn't a love-at-first-sight and happily-ever-after story. Misperceptions, miscommunications, expectations, lies, and all of those things that make us human beings can help create some intense love and conflict development. Having a character that isn't "Prince Charming" but someone with faults and flaws can help deepen that conflict as well.
Scarlet tried to hook up with Ashley but failed each time. During the times it might have worked out, she got in her own way and failed some more. I hated the story for it, but here I am discussing it thirty years later because the conflict made it memorable.
Meet Joe Black starts with a love-at-first-sight scene and then develops the relationship through a myriad of try/fail cycles, each offering greater insight into the human experience.
The love interest doesn't need to be two human beings. In Lord of the Rings, Frodo's love interest is the Shire. Conflict is introduced by the use of a temptress—the ring. How many times did Frodo try to give up the one for the other? The story is laden with these try/fail cycles.
We've all done stupid things for love and this can be another way to utilize try/fail cycles. In Field of Dreams, Ray Kinsella seems insane as he nearly loses the family farm and goes on a road trip to chase a developing love interest.
There are so many more.
The next movie you watch, take an inventory of the love interest and temptress if there is one then watch for the try/fail cycles. As readers we want the protagonist and love interest to succeed. But if they don't try and fail a few times before making it work, we'll tire of the tale and toss it aside. In short it will become forgettable.