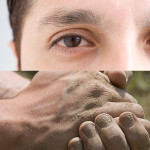 In 1997, during some volunteer work in Argentina, my supervisor, Carlos Monroy taught me a truth that has had a profound effect on who I am today.
He drew on a chalkboard a graph similar to the one below, though I've translated the words from Spanish.
The graph is made up by two components, Vision along the y-axis and Work along the x-axis.
Vision is measured by one's ability to plan, prepare, visualize, envision, project, dream, and anticipate possibilities.
Work is measured by the amount of effort put forward, dedicated or otherwise spent.
Within the graph, Monroy drew four quadrants with the (translated) titles below.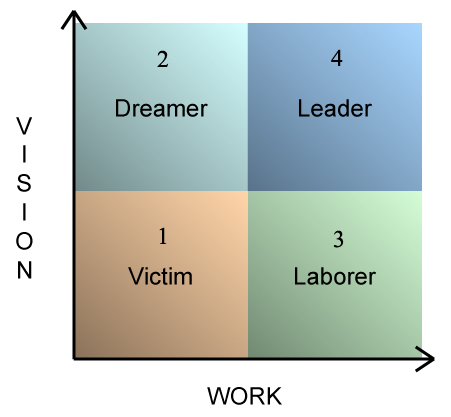 Victim:

Low Vision, Low Work.

A Victim is someone who feels that the world is constantly dumping on them. Often they are waiting for their lives to get better though they generally feel that any good or bad that may happen to them is outside their control. For example a victim will blame those around him or her for how he or she feels. Victims aren't very fun to be around. Friends and family that try and support, encourage positive results often find their advice disregarded or twisted to the point where they are seen as part of the victim's problems.
Dreamer:

High Vision, Low Work. 

A Dreamer is someone who usually exhibits positive energy (though they may slip into victim mode when their plans fall through). They frequently speak of the possibilities that await them and often have many plans for greatness in the works. Dreamers are full of lofty, grandiose ideas.  However, they tend to lack the ability to finish goals that they have set. They struggle with meeting deadlines or objectives. Many of the lofty goals lack the careful planned-out structure of getting from point A to point B, and when those deadlines pass, the dreamer typically lapses into victim mode, blaming people and events around them for impeding their success. While vision is a crucial element of success, without work, the world will never know of the dreamer's existence.
Laborer:

Low Vision, High Work.

The laborer is a great person to have on any team. Generally, they know how to work and they don't shy away from it. They put forth the effort. Laborers usually burn the candle at both ends, willing to dedicate time and energy to given tasks. Their lack of vision may create situations where efforts are misguided. They might get down the road a ways on a project before they realize that they've wasted time producing something different than expected or desired. Workers typically believe that their happiness is within their control and is directly tied to their efforts. They are self-reliant and very dependable.
Leader:

High Vision, High Work.

When applying as much vision as the dreamer, with the ability and willingness to work as hard as the laborer, great things happen. These are the people that change the world. They know that their destiny isn't left to chance, but is within their control. Their happiness is not based on anyone else's actions. Leaders know how to inspire the masses by sharing their vision and then empower the same by actually following through with the goals they've set. Through ample vision, Leaders recognize and harvest the talents of those around them and through example, work to accomplish dreams.
Monroy told a story of a man who raced a team of horses pulling a cart.  After winning event after event the man and his horses gained a bit of notoriety. He was asked what he fed his horses to help them perform so well.  The man replied that he fed them grains like everyone else.  He was then asked if the horses had been bred from a special lineage.  He smiled and shook his head. "The secret," he said, "is to start the team at exactly the same time."  When the team was in step with one another, they didn't fight each other's efforts, the load was shared and they travelled faster.  A leader has the ability to inspire each individual to contribute and function in his or her unique capacity for the betterment of the team, in step with the other members, a concept known as synergy.
The first two quadrants, Victims and Dreamers, are selfish in nature.  The vision of Victims and Dreamers is fogged by their motivation of fear and greed.  They are incapable of seeing anything greater than themselves, primarily because there is much effort required in selfless causes. The effort to succeed is not seen inside them so they fail.
The second two quadrants are opposite.  Leaders and Laborers by nature are not selfish.  They put their heart and soul into greater causes than self but they see that success comes from within them.
What does this have to do with writing? Hopefully we are not Victims, blaming our inadequate word count on events and people around us. Hopefully we are not Dreamers, expecting to write many novels in our lifetime, but not writing anything today. Even though they are great, hopefully we are not Laborers, generating significant word counts, but failing to say anything.
Let us be Leaders in writing. Let us use our talents and craft to inspire the masses. Let us change the world.