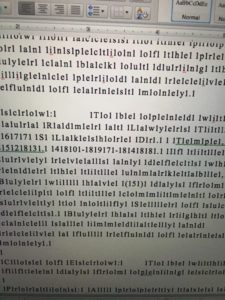 A few months ago, the fam had gone out of town, which meant I could get some serious writing done. I was zipping along when all of the sudden my words turned to what you see to the left.
I closed it down, opened it back up and nothing changed. Frantic, I called my IT guy and he walked me through a few things to try—still no good. I sent it to a couple other folks, tried a slew of suggested remedies, but nothing worked—It was gone.
Turns out the last time I had saved the file was about a month earlier. Also turns out I'd been really rocking on this project for the last month and so my previous version looked about 150 pages shy.
"Jesus Saves. You Should Too."
I received this advice from a friend. He was right. It would have taken just a couple seconds to save the file—essentially sparing me a month's worth of rework. I write on a laptop, so I never really shut down the computer. I did save it. I saved it often. But I never made a backup copy. I just saved on top of the old version making a new one.
I'm told that the file had grown so large (to about 4MB) that Word couldn't handle it and wigged out and this had something to do with RAM.
Word sucks by the way, but it is part of my writing process. I haven't been able to make Scrivener part of my process yet.
So now I save. I save everyday. Multiple times a day. In multiple versions. I saved a file today with 916 at the end, indicating to me that it is the version done in September 2016. I put a letter after 916 so I can go right on through the alphabet with different versions.
Now while this was extremely painful, and many of you probably winced at the thought, let me assure you that I got through it. After a night of depression, I awoke, determined to redo it. I spent the next two days writing. In the end, I caught up to where I was before my misfortune.
The new version was shorter by about 20 pages. And it was better. Only by the time I finished, I was spent on the project and my pantser mind went on to other things. I have yet to circle back to finish the dang thing.
Moral of the story:
Safe often. Save in different names and locations. Email it. Flash drive it. Google Drive it.
A rewrite can be a good thing.
I live in Arizona with my family, wife and five kids and a little dog. I write fiction, thrillers and soft sci-fi with a little short horror on the side. I hold an MBA and work in finance for a biotechnology firm.
I volunteer with the Boy Scouts, play and write music, and enjoy everything outdoors. I'm also a novice photographer.
You can read some of my works by visiting my Wattpad page and learn more at www.jacekillan.com.