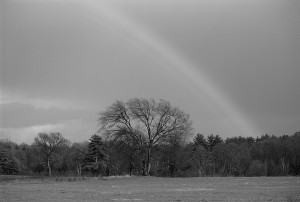 My writing started to get good when I learned how to write in color.
As children we are concrete thinkers; we see the world in absolutes, black and white, good and bad, likes and dislikes, right and wrong. As we grow and develop we begin to comprehend abstract thought, such as, just because Jonny does something bad doesn't necessarily mean he is bad, and just because Sally does something good doesn't necessarily mean she is good. Abstract thought leads us into a new world of judgment and emotion. As we try to understand our existence and reality, abstract thought helps us wrap our head around those complicated, even contradictory themes life presents.
My early writing portrayed much of this concrete thought. My protagonists were all good, and my antagonists were all bad, right and wrong, loved and hated. I soon discovered that my stories lacked conflict. Oh, there was plenty of opposition between the good guys and the bad guys, but real life conflict isn't so easily defined and identified. My writing in black and white created predictable plots, boring dialogue, and failed to solicit an emotional response. In short, my writing was forgettable.
As I struggled to understand why, I thought back to all of the stories (written and film) that I remembered from my youth. Stories like "The Monkey's Paw" by W. W. Jacobs and "A Sound of Thunder" by Ray Bradbury caused my mind to stretch, mainly because there wasn't a happy ending, a resolution that I could forget. My mind continued to replay the plots, over and over, thinking of alternative actions, alternative endings in search of resolution.
Movies like "Old Yeller" and "Against a Crooked Sky" provoked me the same way. I found myself days, weeks, even months after watching the films, trying to rewrite the plots for better, happier endings. If only the protagonist could go back in time and do it right, then the ending could be different.
A couple of years ago, I attended a workshop where I read a short story I had written.  I was complimented for my fine piece of horror. Shocked at the assertion, I argued that my story couldn't possibly be considered part of that genre. The instructor smiled and said, "You are definitely a horror writer."
I decided to read some horror to prove her wrong, and sure enough, I am a horror writer. I enjoy reading it, and love to create it.
As a horror writer, I take the reader to an uncomfortable place. Instead of forgettable, happy-ever-after-type endings, my writing allows me to dwell in the horrific, the sad, the hard, the pain, and the unthinkable. Through that experience, I invite the reader to return to the story in search of a better resolution.
Character development is a crucial part of unforgettable writing for it is their choices that often create the dire circumstances in which we find ourselves. Nathan Barra wrote something to the effect that a good character is someone that you'd like to sit down and have a drink with but you'd also like to punch in the face. Great characters like Javert and Gollum won't fit into good and bad molds, they do good things for the wrong reasons, and bad things for righteous reasons, and do terrible things for terrible reasons. To err is human. I love experiencing such characters and their choices as they create worlds of desperation, loneliness, bitterness, and fear allowing me as the reader to feel, empathize, pity, and relate, all along searching for resolution whether it comes or not.
For a story to truly be unforgettable, it needs to be written in color.