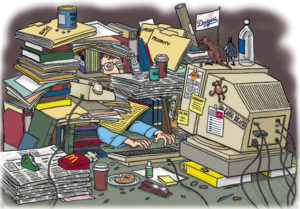 Like most of the authors I know, I'm not a naturally organized person. Sometimes it's a struggle to force myself to get the major plot points or non-fiction chapters mapped out before I start on a new project. After installing a giant electronic whiteboard I picked up on CraigsList, I was able to see the value of the visual cues and mind-mapping when hashing out a new project.
When it comes to my writing laptop, appropriately named "Novel Factory", I tended to start writing and just dump everything into the My Documents folder. When I set a project aside for a while, I sometimes have a problem locating where I put the documents, notes, and/or pictures. That's why I created an organized area for projects.
The first step was to create a home for my projects. This is a set of nested folders so I know where things are located. In My Documents (I use Windows for this example), I have a folder called !Master Project Files. I place an exclamation point at the beginning of this folder name to make sure it appears at the top of the listing.
I have enough projects where I had to add in a layer between the Master folder and the project names.
Here is my main overall folder structure:
!Master Project Files

Fiction

Science Fiction
Cyberpunk
Fantasy
Horror
Western
Graphic Novels

Non-Fiction

Cookbooks
Author's Handbook Series
One-Offs

Poetry

!Poem Superstore
Chapbooks

Collections
Anthologies

Original (Add in Submissions and Contracts folders to each Project)
For Other Publishers (Add in Submissions and Contracts folders to each Project)
The "Superstores" are short stories and poems that have been published elsewhere or are original unpublished works that are available to put into a new collection or chapbook. When I complete a short work or poem, I make sure to put a copy in the Superstores.
For each project, I copy the below generic project folder structure and rename it to the title of my new project. Inside some of these folders are appropriate files. For example, in the Word folder, I have a generic Word document set up with my preferences (font, margins, etc.), whereas in the Research folders I have a simple text document ready to accept notes and URLs. In the Final folders, I have documents that have my set publishing templates for interiors and covers. Note that I have a folder called Graveyard. I never throw away (delete) anything. If I cut something, such as a scene or a whole story arc out of a book, I paste it to text documents and place them in the graveyard. I can use these later on to develop short stories, to generate ideas for a series, or to use the words for marketing. Sometimes I file off the serial numbers and reuse them in other books.
Here's my individual project folder structure:
Project Name (Rename Me)

Manuscript
Images

Cover Ideas
Characters
Places
Objects

Research
Characters
Tropes
Marketing
Final
Graveyard
When I have a new project, I copy the "Project Name" folder and its contents and place it in the appropriate genre master folder. Then I rename it to the book title. Now I can find all of my information for any project in one location (three, if you count the backup on my server and the copy linked and auto-uploaded to my commercial Dropbox account.)
Hopefully this will inspire you to create a better organized virtual home for your darlings. Have a happy, prosperous, and productive 2017!
---
Guy Anthony De Marco is a disabled US Navy veteran speculative fiction author; a Graphic Novel Bram Stoker Award® nominee; winner of the HWA Silver Hammer Award; a prolific short story and flash fiction crafter; a novelist; an invisible man with superhero powers; a game writer (Sojourner Tales modules, Interface Zero 2.0 core team, third-party D&D modules); and a coffee addict. One of these is false.
A writer since 1977, Guy is a member of the following organizations: SFWA, WWA, SFPA, IAMTW, ASCAP, RMFW, NCW, HWA. He hopes to collect the rest of the letters of the alphabet one day. Additional information can be found at 
Wikipedia
 and 
GuyAnthonyDeMarco.com
.