A few months ago I took one of David Farland's workshops where he introduced me to a concept known as "Petting the Dog." He explained that in Hollywood, writers would introduce a scene to sell a character's likability to the audience by petting a dog or kissing a baby or something of that sort. Since the class I have taken note of those scenes in film and in writing.
In past Disney films, many of the characters were all good or all bad and of course their actions reflected this. From Cinderella and the mice, Aurora and the fairies, Snow White and the Dwarves, Mary Poppins and the blue jay and Ariel and the crustacean band, these characters gained likability by showing that they treated other critters and creatures well and by doing charitable and kind acts.
In later years, characters have not been so "traditional" and one-dimensional. Aladdin for example was a thief but he shared his bread with the street orphans, in essence "petting the dog." That's how Disney sold Aladdin's likability in spite of him being in an unlikable profession.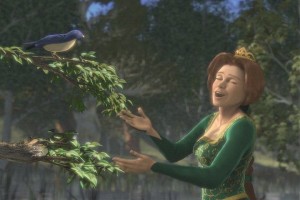 Shrek was another that didn't follow tradition. They even took the "petting the dog scene" of Mary Poppins and Snow White, singing with a Blue Jay. I never laughed so hard at a movie when the bird exploded; it was completely unexpected and yet endearing.
Maleficent had to go through some rebranding in the recent Disney film. How did they take a terrible witch sorceress that threatened to kill Prince Charming and make her likable? They showed her as a child and a guardian of the woods, kind to its critters and creatures and as an adult, kind and caring to Aurora.
Villain protagonists or hero antagonists are becoming more popular in film and literature. Entire television series are based on the dichotomy present in such characters doing bad things for righteous reasons, like The Shield, Sons of Anarchy, Dexter, House of Cards, The Sopranos, Almost Human, Deadwood, Justified, Revenge and so many more. Each of these relies heavily on "petting the dog" scenes.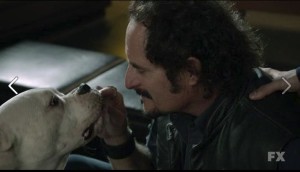 In Sons of Anarchy, Tig a member of the MC and up until a certain point was one of my most favorite characters, mistakenly killed another member's wife. I hated him for it. I hated the writers for it. I resented going to that place that they took me, but I went all the same. I expected that the writers didn't care about the character as much as I did and were going to kill him off. But in following episodes there were many scenes that showed a tender side to Tig. In one, he walked into a dogfight and rescues a pit bull about to be put down because it lost. This reminded me that Tig was human and not a monster. The writers brought him back by "petting the dog."
House of Cards opened with a "petting the dog" scene. The villain protagonist, Frank Underwood tends to a dog is hit by a car. He pets the dog then kills it, supposedly for a righteous reason, but the scene gives us tremendous insight into this Underwood's character.
Of course, these scenes do not always involve a dog. As David Heyman pointed out in an earlier post, NASA was able to endear the public to a couple of machines through their twitter feeds.
In the Shield, the series opens with a dirty cop, Vic Mackey, killing a righteous officer. The writers needed to sell the viewer that Vic was worth investing into with enduring emotion, even though he did something so heinous. I'm not sure they ever really pulled it off, but the "petting the dog" scenes involved a prostitute with a small child. Vic went out of his way multiple times to help this woman and her son.
Good storytellers endear us to characters, not by showing them doing what everyone else would do, but by showing us the exception. By allowing our characters to "pet the dog" we can offer great insights to their moral codes and personal thoughts, even if they are a psycho killer.
What other examples of "petting the dog" have you seen?