Welcome to Thursday, August third. Today happens to be the birthday of my youngest daughter, Wiggle Pickle, and it's also National Watermelon Day.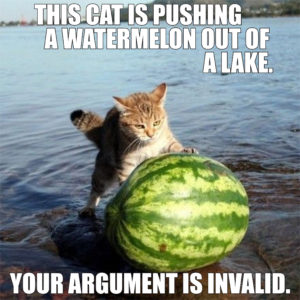 Have you ever had someone toss you a watermelon? The big ones are tough to catch because they can slip out of your hands due to momentum. Similarly, finishing a writing project and holding a copy in your hand is always a good feeling that's tough to hang on to when you have to figure out what to write next, but what about the momentum of that event?
Newton's Second Law loosely says that the rate of change of momentum is directly proportional to the forces applied in the direction of those forces. The same can be applied to your writing. Once you have something released on the market, it's time to decide on what to do next to keep that momentum going.
You can decide to take a break and relax, perhaps do some marketing to sell a few more copies. This means your new book may have some outside forces nudging it along, but soon enough those sales will drop. Less force means less momentum, and it begins to decline. Think of it as a form of friction. After people either buy your book or they see your advertisement and decide that book is not for them, they begin to tune it out as background clutter.
What can you do? Remember Newton, of course!
Now is the time to start working on your next project, just after you've completed one. More books with your name means more books have the potential to hit it big. NY Times Bestselling author Kevin J. Anderson calls it the popcorn theory of success. More popcorn kernels in the fire means more opportunities for one to pop.
The more books with your name on the cover means more chances for a reader to discover they love your work. The best chance to sell another book is when a reader finishes a satisfying novel and is ready for another one. Those forces help to push your work forward. More forces mean more momentum.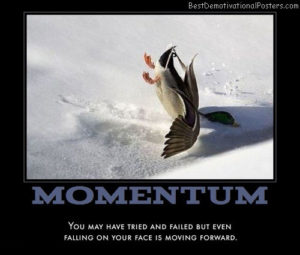 Each book is a stepping stone to your writing world. If you only write one and spend your days flogging it, after a while people will almost look at you like you're a spammer. Same thing, day after day after month after year. If you started working on the next book, after a year you'd have at least one close to finished. Some folks can have four quality books or more. Author Chris Fox has a video series where he is writing a science fiction trilogy in exactly twelve weeks. You get to see weekly updates. Last year he wrote a novel in 21 days, then turned around and pulled in a six-digit income by December 31st. All of this was documented on ChrisFoxWrites.com and his YouTube channel.
Sure, perhaps you can't write a book that fast. The good news is you don't need to. You just need to keep that momentum going by working on it. If it takes you four months to bash out a first draft, you're that much closer to releasing the next novel instead of starting four months from now.
It's your decision how you want your momentum to go. Down from lack of energy and force behind your work, or up from little nudges every day. Eventually the momentum will build to the point where you can earn a following of true fans who will buy your next book sight unseen because they know you produce quality work.
Don't let us down!
---
Guy Anthony De Marco is a disabled US Navy veteran speculative fiction author; a Graphic Novel Bram Stoker Award® nominee; winner of the HWA Silver Hammer Award; a prolific short story and flash fiction crafter; a novelist; an invisible man with superhero powers; a game writer (Sojourner Tales modules, Interface Zero 2.0 core team, third-party D&D modules); and a coffee addict. One of these is false.
A writer since 1977, Guy is a member of the following organizations: SFWA, WWA, SFPA, IAMTW, ASCAP, RMFW, NCW, HWA. He hopes to collect the rest of the letters of the alphabet one day. Additional information can be found at 
Wikipedia
 and 
GuyAnthonyDeMarco.com
.