Now for our last two days of Superstars Week: Q&A with Kevin J. Anderson and David Farland, two of the panelists participating in Superstars Seminar. The other regular participants are: Eric Flint, Rebecca Moesta, and Brandon Sanderson. For more info on the seminar, go to www.superstarswritingseminar.com.
Though they need no introduction, it felt like a requirement, so:

Kevin J. Anderson is the author of more than one hundred novels, 47 of which have appeared on national or international bestseller lists. He has won or been nominated for numerous prestigious awards, including the Nebula Award, Bram Stoker Award, and New York Times Notable Book. By any measure, he is one of the most popular writers currently working in the science fiction genre.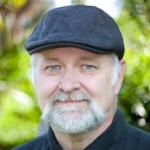 David Farland is an award-winning, New York Times bestselling author who has penned nearly fifty science fiction and fantasy novels for both adults and children. Along the way, he has also worked as the head judge for one of the world's largest writing contests, as a creative writing instructor, as a videogame designer, as a screenwriter, and as a movie producer.
*              *              *
Q: Who thought of the Superstars Seminar and why did you think it was a good idea?
Kevin J. Anderson: Rebecca and I had Dave, Brandon, and Eric come to stay at our house for a few days so we could have a "bestseller summit" — with the intention of benefiting *ourselves*.  We were all bestselling, well-established authors, and there just aren't workshops to give practical, no-nonsense advice to Pros.  We learned a lot from one another in those few intensive days, and we realized that we had a lot of good information to share with other serious writers, who weren't getting it anywhere else.  The first seminar, in Pasadena, we had two TV producers who wanted to come and sit in-Steven L Sears and Marc Scott Zicree-and they ended up being guest speakers.  The second year, in Salt Lake City, we had Sherrilyn Kenyon as our official guest speaker, but Tracy Hickman and Howard Tayler also came to attend, and they spoke as well.  For the next seminar, we have Kristine Kathryn Rusch and Dean Wesley Smith, but we'll probably have some other surprise guests, as well.
David Farland: This was Kevin Anderson's idea.  Some of us professional writers had gathered to talk about the state of the industry.  Brandon and I were both giving advice–me through my Daily Kick and Brandon through his podcasts, and Kevin suggested that we create a writing workshop taught only by NYT bestsellers.  I'd never seen one like this in our field, but it certainly made good sense, especially when one hears that wanky advice often given out by new authors who, while they may mean well, just aren't very well informed.
Kevin and I have been friends since at least 1990, and we often talk–either through email or in person.  I'd discovered Eric Flint through writers of the Future and helped him get published.  I've always loved Eric and respected his work.  And then I was Brandon's writing instructor at BYU.  I later took him out on his first book-signing tours and helped him get his career started.  So we're not just writers, but also we're all friends.  Each of the authors brings his or her own experience and strengths to the table.
Q: How long do you intend to keep doing it?
Dave: Oh, I'll die in 15 years or so.  I think I'll retire shortly thereafter.
Kevin: It's very time consuming and a lot of work, but we get plenty of rewards.  It all depends on whether we have enough attendees!
Q: What has been your most rewarding or favorite moment from the seminars so far? (We had to specify that they couldn't use Tracy Hickman's story during the 2011 seminar.)
Kevin: (Note that the Tracy Hickman story was not planned; he just asked if he could have the microphone for a few minutes.)  It's very rewarding to see how many people from the first two Superstars have signed up again for later seminars — so, either it isn't sinking in the first time around, or they feel it's valuable.  I love watching the discussion groups on Facebook and keeping in contact with some of our attendees, to watch how their careers are taking off (much faster than mine ever did!)
Dave: That's a hard one.  For me, the greatest reward is to meet the people at the seminar.  I've very much enjoyed getting to know several people from the workshop, though I hesitate to try to name them all, for fear that someone will be left out.  You see, as a writer, we don't get to have much in the way of a social life.  So I really take delight in getting to meet you new authors.
Q: If a student is to take away only one piece of information from this seminar, what do you hope it will be?
Kevin: That being a professional writer is an actual job-a business-and you need to treat it as such. You can't just be flaky and "artistic" and miss your deadlines.
Dave: Ah, for each one of you, it will be different.  One of you might need to learn to make writing a habit.  So that's what I want you to take away.  One of you might need to learn how to run an auction.  If so, I want you to walk away with that.  One of you might just need to learn how to hope in the face of discouragement–and so you must gain that.
*              *              *
Join us tomorrow for the rest of our question and answer session.