Three years ago my life changed.
Before dismissing that statement as being melodramatic, just hear me out.
It was 2010 and I was thinking that I might actually be interested in maybe someday pursuing a writing career. I was receiving Dave Farland's Daily Kicks, and he mentioned he was putting together this seminar-thing (okay, he was far more eloquent than that) with a bunch of other top-notched and top-selling fantasy writers about everything you needed to know about the publishing industry, but no one was willing to tell you. The other instructors–Kevin J. Anderson, Eric Flint, Rebecca Moesta and James Owen–all have equally impressive resumes. The seminar-thingy was the Superstars Writing Seminar. I figured what the heck, I'd been going to "skills" seminars for about five years now, maybe it was time to get an insider's look at the industry I wanted to be part of.
Best (professional) decision of my life.
Why?
The information and insight into the publishing market, including the self-publishing v. traditional publishing debate, was invaluable. Knowing the risks inherent for a publisher in taking on a new writer, I understood (and could work to circumvent) the barriers to publishing.
The time with the instructors was unprecedented. Remember that I said I'd been attending seminars for five years. Even with instructor-intense workshops, there wasn't a whole lot of out-of-class time with the instructors. Superstars blew that distance out of the water. We went to lunch with the instructors. We went out drinking with Kevin Anderson. If you wanted a few minutes of their time, all of them where happy to oblige.
The instructor time ties in with a very important point.  They are some of the nicest and most open people you could ever want to meet. They genuinely want to help other writers succeed. They are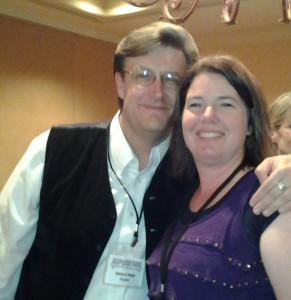 invested in helping them do so. They have a wealth of information on many disparate topics and are more than happy to share that knowledge, whether it's publishing, queries, hiking, micro-brew beers, mafia, European history or whatever.  For the price of asking, they gave us hours of their time to help us Superstars attendees move forward in our careers. And the guest speakers are just as open and wonderful as the regular instructors.
Then, of course, there's the connections you form with the other attendees. The Superstars attendees are as amazing as the instructors. A group of the 2010 Superstars alums formed the writing group that grew into Fictorians. The picture to the right is of some of us at World Fantasy 2012. In addition to Fictorians, Superstars alums have an active Facebook group. We encourage and commiserate with each other. We are our own best cheerleaders. That network of people going through exactly what you are going through is invaluable. It's also how I found my publisher.
Most of all, what Superstars did for me was give me the confidence to say, "I am going to be a professional writer." It's not a crazy dream. It's a goal. Superstars gave me an understanding of the business side of the industry that I couldn't get anywhere else.
Seriously folks, if you are interested in a writing career or maybe you're already pursuing one, you are doing yourself a disservice by not attending Superstars. I highly recommend you attend Superstars Writing Seminar, which will be held May 14-16, 2014 in Colorado Springs, Colorado this year. Prices go up on  May 1, 2013, so sign up now.
I hope to see you there.
If you're still on the fence, check out another great posts on this site about the Superstars Experience:
Q&A with the Superstars: Part I