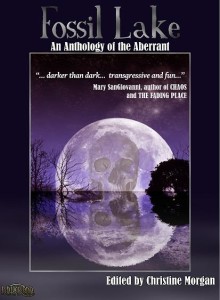 Do you love the dark?
My latest short story release is in  Fossil Lake:  An Anthology of the Aberrant, out now from Daverana Press.  Mishipishu:  The Ghost Story of Penny Jaye Prufrock is set in a place modeled after somewhere I know and love:  a summer camp I went to many times during my childhood.  It's one of 37 stories and poems  in this anthology of the aberrant.
Penny has spent most of her summers at Camp Zaagaigan, a place that offers her refuge from the rest of her life, which seems to fall apart more every year–but next year she'll be thirteen, and too old to come back.  Fearful that growing up is going to cost her everything she loves, she escapes into imagination, and she's even got an imaginary friend to share her journey:  a fossilized creature she dredged up from the sediment at the bottom of Lake Mishipishu.  Mythology, though, is a double edged sword, and Penny may not be prepared for the consequences  if she follows her new friend too far into the lake.
Setting a story in a real-world place was a pleasure and a challenge.  On one hand, I didn't need to spend a lot of time worldbuilding the setting:  I simply dredged my memories and had a full map of the camp, a ready-made stage on which to enact my story.  It was also very easy to add a lot of sensory description, because my memories are still very vivid:  the feeling of the sand on the beach, the smell of the campfire, the sound of the waves slapping against the dock.  On the other hand, the major change requested by my editor was to cut out some of the unnecessary description that wasn't critical to understand the story.  I probably could have gone on for twice as long if I'd wanted to describe every aspect of the camp that I'd enjoyed as a kid; but bogging the story down in irrelevant details wasn't doing it any favours.  The final version of Mishipishu is leaner, meaner, and ready to sink its fangs into you.
If you'd like to meet the lake monster of Camp Zaagaigan, and the other horrors that can be found in Fossil Lake, you can order your own copy of the ebook right here for only $2.99.
I loved going to summer camp each year.  But sometimes, what you love can be the death of you.