*Contains no spoilers for the current season, but does contain some spoilers for past seasons.*
I love Game of Thrones for the reason everyone seems to hate it: no character is safe. You can't be sure if your beloved favorite character will survive the entire season, or will die in a completely unexpected way. And at the same time, you don't know which awful character will be victorious in his or her pursuits, making it that much harder for your favorite character to survive.
Game of Thrones started off innocently enough. Sure, I screamed "Noooooooo!" at my television along with everyone else when Eddard Stark was beheaded, but that's not enough to make me quit watching (although, can someone write Sean Bean a character that doesn't die, please).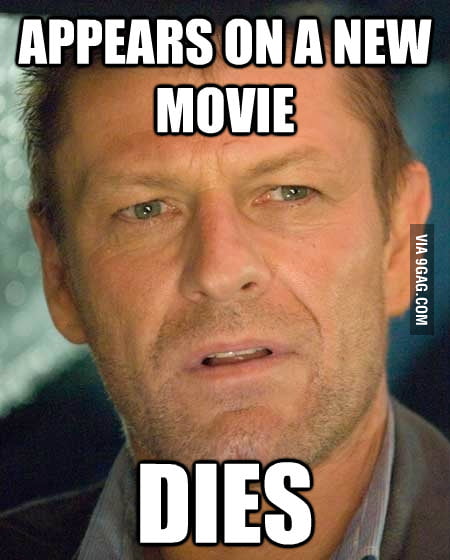 Fast forward to season three. I'd been enjoying a fantastic season so far, updating my husband as it went along. He had read the books years ago, and I knew he had read at least the first two or three. The first time he had thrown one of the books across the room, he had just read Eddard Stark's beheading.
So my husband surprised me when he asked if we could watch Game of Thrones together one Sunday night. And like a naive fool, I felt excited my husband actually wanted to watch it with me! As the episode went along, I almost felt guilty because it was turning out to be a so-so episode, not the most exciting I had seen. Then, we came to the part of the episode with a wedding. Robb Stark was supposed to wed one of Walder Frey's daughters, but handed that *honor* over to his cousin or somebody.
Violin music started, and I said out loud, "You know, I have a weird feeling about this."
"Oh?" my husband asked innocently.
As we watched on, the insanity unfolded. My husband watched me as I gaped, horrified, to the end, through the credits, and continued to watch me as I stared at the blank screen in total silence.
"And now you know why I threw the third book in the series across the room," he said and turned off the television.
For days after, my mind reeled with possibilities, replaying the scene in my mind. I felt horrified, shocked, and so very sad.
But I didn't feel betrayed. I felt satisfied because George R. R. Martin, the show's creators, and cast made me feel, and feel very deeply.
Think back to the hardest thing you've ever gone through in your life. A blind-siding break up. The death of a loved one. Losing a part of yourself, whether physically or emotionally.
Now consider the reason it happened. Chances are, and more often than not, the reason doesn't feel good enough. It feels flimsy, unbelievable. Sometimes, there is no reason. No reason at all. It just is.
During the Red Wedding and all subsequent twists in Game of Thrones, I didn't feel betrayed by George R. R. Martin,  or by the writers and producers of the show David Benioff and D. B. Weiss. The moments they create continue to shock me, and the story continues to captivate me and draw me in. Because, just like life, just like the real world, the show and its creators promise nothing. Sometimes people die. Horrible, unspeakable things happen to some of the characters. But the story keeps on turning, keeps on spinning. Ironically, that's perhaps that's why so many people feel betrayed by Game of Thrones. They expect entertainment, but instead are shown too many situations true to life in the real world.
Although Martin wasn't the first author to do it, I'd argue Martin is paving the way to make unpredictability of mortality acceptable in epic fantasy.  In the coming years, I'll expect to see many more deaths of main characters because that's what keeps readers and viewers on their toes. It's what bridges the gap between fantasy and the real world: unpredictability.
As writers, we often feel that certain things aren't allowed. We aren't allowed to make our readers sad at the end of a book – it's almost taboo. You're supposed to leave them with a lift, right? Leave them with hope, closure. But life doesn't always close a chapter with hope and happiness. George R. R. Martin knows this and teaches us an important lesson with Game of Thrones: It's not your job as a writer to make your readers (or even your editor or publisher) happy with your story. It's your job to make them feel.