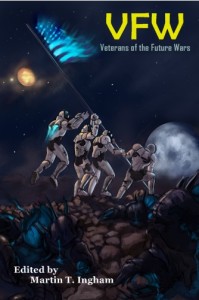 All's fair in love and war…and sometimes, the last thing you can do for your loved ones is to take up their cause as your own.
VFW: Veterans of the Future Wars is out now from Martinus Publishing. I'm honoured to be part of this military science fiction anthology assembled as as tribute to veterans. 10% of profits will be donated to Disabled American Veterans.
And so, my second post this month isn't about love and murder. It's about love and war. It's about the love that soldiers have for the women and men in their units: their brothers and sisters in arms, the people they live with, work alongside, fight with…and all too often die with. And it's about a young misfit who realizes, a little too late, that her comrades in arms are the family she's never had.
What do you do when the only person to look out for you, the only person to really care about you, is taken away from you in a sudden, shocking act of war–before you've had a chance to appreciate what she's done for you? For a young spacer named Jan, she finds herself honour-bound to become the soldier her unit commander always believed she could be. But her greatest enemy isn't the Colonials who attacked her ship; it's the devastating emotional aftermath of being a survivor, and that war may continue long after the Colonials lay down their arms.
Jan's story, entitled "The Last and the Least," is one of 16 short stories in VFW: Veterans of the Future Wars.  If you'd like to see an excerpt from the story and read a little more about the inspiration for this tale, you can check out my author interview at Three Cents Worth.
You can order your digital copy for Kindle of VFW: Veterans of the Future Wars from Amazon, or order a paper copy directly from the publisher.   Prepare to explore the Future Wars – and honour those who have fought before.